Viper Club of America News
The last Final Edition 2010 Dodge Viper produced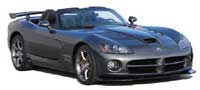 Congratulations to Jim Koehler. He was our grand prize winner of the Last Final Edition (#50 of 50) 2010 Dodge Viper produced

This beautiful Dodge Viper SRT10 Roadster is number 50 of just 50 cars produced - truly the last of the Final Editions commemorating the end of the Gen III/Gen IV production. Even better, we made this one extra-special: It is the ONLY Final Edition Roadster that features the factory Aero Package! So not only do you get the rarity of the Final Edition and the collectability of the LAST Final Edition, you also get the exclusivity of the only Aero Package Roadster ever made in this version.
The Final Edition Viper has several other notable features:
Graphite exterior with custom center stripe (black with red racer stripe)
Rear diffuser area painted black
Unique Final Edition side sill badging
Special 6-spoke wheels painted metallic "Anthracite" - unique to the Final Editions
Black interior with red stitching accents
Gloss black center stack bezel and shift & switch console
Red painted "halo" surrounds on center gauge bezels
Unique Final Edition floor mats
Limited to just 50 Final Edition Viper SRT10's, this is destined to be one of the most sought-after versions of the Viper ever made. Throw in the fact that it is the LAST (#50 of 50) made and is an Aero Roadster to boot, and this is one you don't dare want to miss!

Congrats Jim!

return to main page