Viper Club of America News
And the winner is.... Win the last Gen 4 Viper ever produced! ACR-X #50 of 50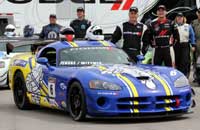 And the winners are.....

The Grand Prize – Dodge Viper ACR-X #50 of 50 went to William Perry – ticket #1414

Second Prize -The last "Green with Envy" 2011 Dodge Challenger SRT8 392 went to went to James Elser, who has purchased tickets in every VCA raffle. -Ticket #1838

And Third Prize of the complete tune up package from Doug Levin Motorsports valued at $1,000.00 went to Mark Eidelman - ticket #0173.

This raffle was totally sold out - all 2750 tickets! Congratulations to our winners and thanks to everyone that purchased tickets to support the club. Stay tuned for our NEXT exciting raffle to be announced soon and have a great Thanksgiving.
------------

It's the end of an era - and you can win it. The last Gen 4 Dodge Viper ever produced ~ The ACR-X number 50 of 50.
The VIPER magazine March/April 2011 cover car. The same car that was driven by Roger Penske and Kuno Wittmer in the Viper Celebrity Challenge. It's autographed by Dodge and Mopar® stars including Kurt Busch, Robby Gordon, Allen Johnson, Sam Hubinette, Ralph Gilles and many more. And it can be yours for the cost of a single raffle ticket - $125 - available exclusively to VCA members.
As a member, you can purchase tickets singly at $125 each or in a discounted package of three for $300. Venom members can purchase six tickets for $500. There's no limit to the number of tickets you can purchase, up to the number of tickets available. Only 2,750 tickets will be sold on a firstcome, first-served basis.
The Grand Prize ACR-X features a number of one-of-a-kind benefits
Michelin wrap over an unpainted body, so you can change the paint scheme down the road
Over a dozen autographs on the dashboard featuring some of the biggest names in racing
Certified as number 50 of 50 produced - the absolute last Gen 4 ACR-X produced
Includes fresh tires, oil, fluids, etc.
Track- or museum-ready
Second Prize: 2011 Dodge Challenger SRT® 392
"Green with Envy" special edition - last one built!
6-speed manual with 470 horsepower and 470 ft lbs of torque
Special interior with accent stitching
Third Prize: ARV Tune-Up Package donated by Doug Levin Motorsports
Includes filters, fluids, etc.
Sorry, labor not included
return to main page