Viper Club of America News
Nurburgring Record Video!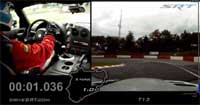 The Viper Club of America is very pleased to present the official video of the 2011 Dodge Viper ACR record run at Nürburgring. This exciting event took place on Wednesday, September 14th, at approximately 5:15 PM local (Germany) time. There were numerous cameras in place to document this run. Not only were these stock production cars, but they actually came right off the dealer's showroom floor! It doesn't get any more stock than that. The Viper Club will be putting together a more comprehensive video including background shots and the run by the ACR-X that same day. Look for more details on that in October and be sure to check out the next VIPER magazine for the full Nürburgring story. Our thanks to SRT for including the Viper Nation in this very exciting event and to Tomball Dodge for making it all possible by providing these record-setting cars.
return to main page