Best Seller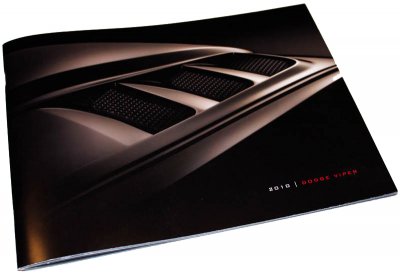 VOI 11 Collectible 2010 Viper Brochure
Okay, here is something that is VERY unique and VERY collectible: The 2010 Viper manufacturer brochure with a special parchment insert made especially for VOI 11 in Salt Lake City. These actually appeared in our merchandise booth on Saturday night unannounced and nobody knew they were there until Sunday morning just before we closed the exhibit. We would have probably sold out of them on Saturday night as they are EXTREMELY nice. Besides the standard 2010 model information you would expect in a brochure, it also includes the following among its approximately 25 thick and colorful pages:
Full 2010 color chart, including stripe and interior colors
Information on the 2010 Viper ACR
Information and photos of various limited editions for 2010 - ever seen the Canadian Edition?
Information about Viper Racing, the Viper Cup, and the Viper ACR-X
A special section on Viper racing, going back to the Le Mans wins
A special section on the Viper Nation, including the Viper Club of America
A two-page section showing important Viper milestones, from the 1989 concept to the 2010 ACR-X
A two page section showing production numbers and colors from 1992 through 2010 (colors only for 2010)
So just how hard are these brochures to come by? Well, not even your local Dodge dealer could get them without buying them from Viper Headquarters. And these very special VOI 11 Edition brochures? Destined to be a collectible for many years to come. We have a limited supply so get 'em while you can!