Want to join?
Congrats on owning a Viper! If you think you have some power now, join the Viper Club of America and supercharge your ownership experience! Here is what one member said recently, "Dodge and the VCA make owning a Viper an unprecedented ownership experience." Why is that? Because VCA members are a family worldwide enjoying all the great benefits the club has to offer. And joining couldn't be any easier.
And once you're in, you will receive plenty of great benefits such as:
Viper Club of America Standard Member Benefits....... $50.00 US
Your annual, collectable membership Patch
An annual membership badge for you and another member of your family/household
$1,000,000 of liability insurance when attending VCA-sponsored social events
Special membership only access, recognition, and posting benefits on the Viper Club website Forums page
Assistance with membership benefits. Please call 1-800-677-4321 (M-F-8:30 am to 5 pm CST)
Updates on the very latest news from FCA/Dodge
Viper Club of America Venom Member Benefits......$75.00 US
Receive EVERYTHING a Standard Membership provides PLUS
A Venom Membership Avatar on Viper Club of America's website.
Special pricing and/or benefits for the biennial Viper Owner Invitational
Venom Member recognition on your badge
So what are you waiting for? Use the form below to start your Viper Club of America membership experience! Please note that your Viper VIN (Vehicle Identification Number) is required to join!
We accept Visa, MasterCard, Discover, and checks. All membership requests are final (no refunds) and are not tax deductible. Want to talk to a live person? No problem! Please contact Viper Club of America support at 800-677-4321. Prefer to use a mail in form instead of filling out your information online? If so, click here to download the application.
We no longer use this avenue to process memberships. Please login to the forum .
Before you can renew or join the Viper Club of America, you will need to log into (or join) the Viper Club of America forum. Once logged in to your VCA Forum page, here are the next steps to joining or renewing your membership.
Step 1: Click on your log-in name located in the upper right corner of the screen.
VCA Forum

Step 2: Click on Account Upgrades in the dropdown box.
Step 3: Select the membership level of your choice (Standard Annual Membership - $50 or Venom Annual Membership - $75). Once you click on the {Purchase} box, you will be re-directed to {Pay with PayPal} (A PAYPAL ACCOUNT IS NOT REQUIRED)

Step 4: A PAYPAL ACCOUNT IS NOT REQUIRED - click on Pay with Debit or Credit Card and proceed to the next screen. (If you have a PayPal account, you may log in to your PayPal account and complete the transaction)
Step 5: Enter required information and click {Pay Now}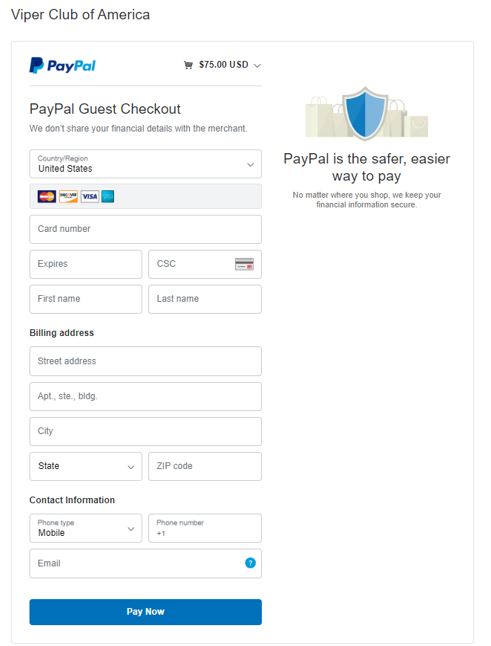 VCA Forum
Questions, or need assistance, please call us: 800-677-4321