2015 Viper Club of America Raffle #2

The next chapter in the history of Dodge and SRT's ultimate American hand-built, street-legal race car begins with the return of the new 2016 Dodge Viper American Club Racer (ACR).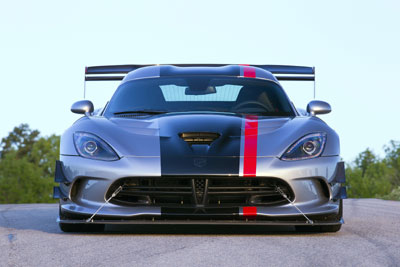 The new Viper ACR honors its long-standing legacy as the ultimate street-legal race car through significant aerodynamic and suspension upgrades, new Carbon Ceramic brakes with six-piston calipers and high-performance tires specifically designed for ACR
New ACR Extreme Aero Package delivers nearly 1 ton of peak downforce at top speed through massive adjustable dual-element carbon fiber rear wing, rear carbon fiber diffuser, unique SRT hood with removable louvers, detachable extension for the front splitter and additional dive planes
Delivers ultimate in stopping performance with unprecedented brake fade resistance through ACR-exclusive Carbon Ceramic Matrix 15-inch two-piece rotors and six-piston front calipers from Brembo®
Unique race-tuned suspension features 10-setting, double-adjustable, coil-over Bilstein racing shocks and unique race alignment delivering up to 3 inches of suspension height adjustment for fine tuning corner weight
The latest race tire compound technology with massive Kumho® Ecsta V720 high-performance tires (295/25/19 front, 355/30/19 rear), designed specifically for the 2016 Dodge Viper ACR, delivers laps times that are 1.5 seconds faster than off-road only race tires
Combination of suspension, aero treatment and ACR-specific tires delivers sustainable 1.5 g cornering during high-speed turns
Lightweight carpet, minimal three speaker audio, manual seats and Carbon Ceramic Matrix brakes offset added performance elements while maintaining optimal 50/50 weight distribution
Powered by iconic, hand-built 8.4-liter V-10 engine rated at 645 horsepower and 600 lb.-ft. of torque - the most torque of any naturally aspirated sports-car engine in the world
Unique Alcantara hand-crafted interior features iconic 'ACR' dash badge and accent stitching
Offering '1 of 1' customization option for the ultimate personalized Viper ACR
Certified for public roads and engineered to wring every last hundredth of a second out of road course lap times, the 2016 Dodge Viper ACR combines the latest in aerodynamic, braking and tire technology - a recipe designed to carry on the ACR's lap-time busting reputation that has made it a legend on race tracks around the world.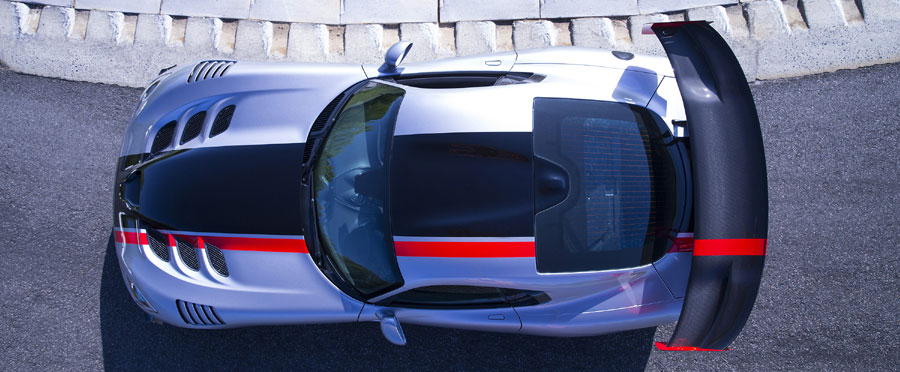 "The Viper has always been more of a street-legal race car than a track-capable streetcar, and the new 2016 Dodge Viper ACR is the fastest street-legal Viper track car ever," said Tim Kuniskis, President and Chief Executive Officer - Dodge Brand and SRT Brand, FCA - North America. "Our goal is to arm our enthusiasts with the ultimate Viper track car to dominate road courses around the world."
Ticket Pricing
Venom & Regular Membership: Currently own a Viper? Join or Renew. The VCA Membership rates and benefits apply.
Venom member pricing: Single ticket: $100, six pack of tickets: $500
Member pricing: Single ticket: $125, six pack of tickets: $650
Legacy Membership: Previously owned a Viper? Join the VCA and become a Legacy Member. Venom or Regular VCA Membership rates and benefits apply.
Legacy venom member pricing: Single ticket: $100, six pack of tickets: $500
Legacy member pricing: Single ticket: $125, six pack of tickets: $650
E-Membership: Own or have owned a Viper? VCA "E" Membership, includes all regular VCA Membership benefits except a printed VIPER Magazine. E-Members instead, will receive an electronic copy of VIPER Magazine. Only $75 per calendar year.
E-member pricing: Single ticket: $125, six pack of tickets: $650
R-Membership: Non-members that haven't owned a Viper can join with a Raffle Only Membership to purchase tickets. $75 Membership (calendar year).
R-Member pricing: Single ticket: $200 for first ticket, $125 each after, six pack of tickets: $700
This Raffle is Licensed by the State of Michigan, Charitable Gaming Division, License #R32854