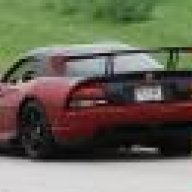 VCA Member
Supporting Vendor
Joined

Jul 25, 2000
Posts

5,212
Reaction score

6
Location
For the past ten years we have invited new drivers, experienced drivers, and anyone interested in racing to travel with us to a race track in the US and experience the thrills of road racing. This year we are going to Miller Motorsports Park to hammer 2006 Mustang GTs on the 4.5 mile course -- the longest in the US ! Actually on day one we will run the East Course , day two will see us on the West Course , and on the final day we will run the entire 20+ turns of the full course. We have gone back and forth from Formula cars to GT cars, and you all voted that you wanted to return to the Coupe/sedan format. These are fresh cars, and we will be some of the first students with Danny McKeever's school here in the high desert of Utah ( some of you also know of his Toyota School at Willow Springs ).
We have negotiated, as always, for more seat time than the normal schools have, and with the entire course on day three , that is the coup the McKeevers gave us--- it is very rare for large courses to ever grant a full day on the entire course as it reduces revenue and ties up more workers. This will not be like your normal schools, and day three will find you dragging you behind, as seat time will be intensive.
We will have the luck of having two very experienced Viper race drivers as Instructors ( there will be plenty of other highly qualified instructors,too ), which is a bit different than in the past. These beasts are very torquey and should be a wonderful platform to help many of you step up to the awesome power of the Snake ( of course, do feel like you can invite your friends with Vettes, Porsches ,etc., as we just love making converts, ha ).
Lunch is provided at the track, as well as helmets and uniforms, so you only need to bring a pair of flat bottom shoes and your person. For more info feel free to call me or email at the address below:
Bill Pemberton
1-800-889-1893
[email protected]
( I can mail out info and give you a phone number contact )
When: March 26-28th ( arrive the 25th )
Where: Miller Motorsports Park (
www.MillerMotorsportsPark.com
)
What: 2006 Mustang GTs
Price: $3250