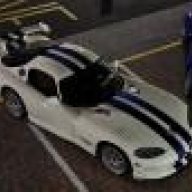 VCA Venom Member
Venom Member
Joined

Feb 26, 2002
Posts

5,290
Reaction score

58
Location
Delmarva Vipers is hosting another visit to the Dover Air Force Base
Mobile Air Command Museum on Saturday, October 29th. This is an
open event so everyone is welcome to attend!
PLEASE let me know if you definitely plan to attend as early as possible
- I will need to inform both the Museum and Restaurant of headcount
so they will be prepared.
The AMC Museum is located on the grounds at Dover AFB and
features retired examples of a range of transport aircraft from the
small U3 Blue Canoe up to the massive C141 Starlifters. While not as
flashy as the Bombers and Fighters featured at some bigger
museums, the planes here are much more massive and, unlike the
bigger museums, the staff here go out of their way to let you explore
the aircraft inside and out. On our last two visits the curator was even
kind enough to open up the back lot and allow us to drive in and pose
our cars with the aircraft. It was an amazing experience, everyone
seemed to have a great time.
The museum recently acquired "Air Force 2" - a recently retired
VC-9 Nightingale that was used as the main transport for Vice
Presidents and VIP Officials. While it is unlikely the aircraft will
be finished with preservations by our event, it should be in the field
for photo opportunities.
We are looking to arrive around 10am and begin our tour by 11am.
There are no fees to attend or park and, because the museum is
relatively small, you can explore a good portion of it in under two
hours. Our photo sessions with the aircraft tend to take a bit longer.
Afterwords we like to visit a restaurant right next to the Delaware
Capital building for a late lunch - it's good food by good people, and
out of the way with a nice large parking lot. We encourage you to
bring folding chairs and coolers as you will be standing on concrete
for several hours.
Feel free to email me directly or post here with questions.
[email protected]
Dover Air Force Base Air Mobility Command Museum:
Air Mobility Command Museum - Dover AFB Delaware - Home
1301 Heritage Rd.
Dover AFB, DE 19902-5301
From North or South:
Take exit 91, travel approx. 1/2 mile down RT 9 and turn left into
the museum entrance
From Bay Bridge (approx 1h20m
Rt301 North to Exit 42 (302 Barclay)
Rt302 East to Rt454 South. (Towards Marydel)
454 turns into Sr8.
Follow through Dover to Rt13 South.
Immediately Bear Left at Target onto South Bay Road AltRt13
AltRt13 South Merges with Rt1 South.
Take exit 91, travel approx. 1/2 mile down RT 9 and turn left into
the museum entrance
Fraizers Resturaunt:
Fraizer's Restaurant, Dover Delaware

Pictures from last years event (Thanks Dom426h):
You must be registered for see images attach
You must be registered for see images attach
Last edited: