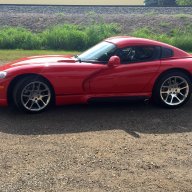 Joined

Jun 20, 2007
Posts

284
Reaction score

26
I showed my 93' Viper to a 19 year old young man who will be in my town until February. When he heard that I was going to sell it for $40,000 he said he would to buy it for $45,000 if I would wait until May of next year. He wanted it really bad. So we shook hands on it and their were witnesses that he said this. I told him that I needed the money by May and that the wait would put me in a hard place as we are building a new house in another state and I would otherwise have it sold by then. He said that he is getting a new job that is paying very well and he will have the money.
Should I still try to sell it otherwise? It is a verbal contract that could be binding on both ends. I think I am going to send him a purchase contract. After all I'm storing the car for him and losing potential buyers. He's seems responsible.
The car has a little over 20,000 miles on it. Lots of accessories, bra, storage bags, interior, soft top, hard top (cap), fastback top.
You must be registered for see images attach