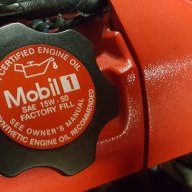 Joined

Feb 26, 2009
Posts

196
Reaction score

0
Location
A question for you A/C experts....

The A/C compressor on my '97 GTS is leaking (green) oil from the front/clutch area, but is still blowing cold, which tells me the system shouldn't have any debris in it from a failed/grenaded compressor. If I replace the compressor myself and button up the lines with no pressure in them, am I safe to drive it to a shop to get the system charged? (of course, I wouldn't turn the A/C compressor on while driving it).

I just want to make sure the pulley spinning without the clutch being engaged wouldn't do something to ruin the new compressor.