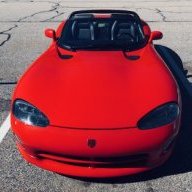 Joined

Jan 10, 2017
Posts

68
Reaction score

0
Location
Hi Everyone,

I am *almost* the proud new owner of a 1994 Dodge Viper RT/10. The car has low mileage, a new clutch, and is completely stock--and from what my research has told me, Vipers are fairly bulletproof if they are not modified.

I'm not gonna lie, though...I definitely feel like a newbie, since this is my first Viper-buying experience. But I have been working on changing that by doing lots and lots of research. It seems like the largest foreseeable costs are insurance, tires, and gas. With that said, I'm curious if anyone could throw me some very rough numbers of yearly maintenance. And, with the car having a new clutch, I'm also curious what the next big replacement might be, and ballpark of cost.

Any insight, advice, or constructive criticism would be hugely appreciated. I've been reading posts and forums non-stop, but it'd would be nice to connect with come fellow Viper enthusiasts directly.

Thanks so much! Looking forward to this new adventure.