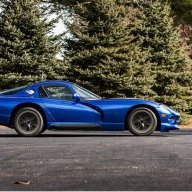 Joined

Apr 16, 2019
Posts

37
Reaction score

5
Location
Im about 2 years from the possibility of driving my viper. But I've been doing some research recently. Some things I've found out recently. 1) Arrow Racing, who built most of the Viper race engines, did alot of development and did the factory engine rebuilds in the 1990s, was bought by a company called Prefix (who now has alot of Viper stroker kits and the like)see them at Prefix.com
2) In the recent past I had questions about rear toe deflect due to the parts bin choices Chrysler made in building the rear end. The company called Ipsco has those items and alot of other bits, like brackets that convert the GEN2 rear breaks to 4 piston....and a bunch of other stuff. see them at
h
ttps://Ipsco.or/newsite
3) Roe Racing has alot of everything else you might need, hoses, gaskets, and other bits.
anyone else have any web sites worth mentioning? See them at roeracing.com
4)another source of a bunch of wrecked Viper parts X2Builders.com
DODGE VIPER BIG BRAKE KIT INSTALL | IPSCO FRONT | 1996-2002 - YouTube
DODGE VIPER REAR BIG BRAKE SRT CALIPER UPGRADE IPSCO | Gen 2 96-02 - YouTube
Personal Notes of
General flaws of the Gen2 as I see it
Problem:
Inadequate Brakes
4 piston front, single piston dakota rears.
the Fix:
Stoptech fronts, Gen 3/4/5 4 piston rears.
Problem:
Overheating side sills
The stock Cat likes to retain heat.
the Fix:
Aftermarket cats/catless
The Problem:
The "aggressive" UPS exhaust sound.
2.5inch exhaust
The Fix:
Corsa and a cam, 3in exhaust
The Problem:
Overheating Engine in Traffic and on the track
The Fix:
1) thermostat and airflow control through engine bay. Also air bubbles in the coolant.
2) Belly pan under front fascia by Roe Racing.
3) Hood Vents
The Problem:
Oil Pan baffling
Stock pan isn't ideal for turning left and right alot, also bad for reducing windage.
The Fix:
1) A windage plate inserted into the stock pan
2) A custom Oil Pan, hopefully wider and shallower
The Problem:
Tires availability and cost and goofy 6 bolt pattern
The Fix:
1) Newer Viper rims or
2) Centerlock setup and Custom Rims
3) Custom Rim (from EVOD)
4) Convert to a conventional 5 bolt pattern and run a 2010 Sized Corvette tire.
The Problem:
Valve Train (trane?) comes from a dakota truck, tiny push rods weak roller rockers...
Causes deflection and limits the valve movement at high RPMs
The Fix:
Better stuff, lots of options, may move to 1.6 Ratio rockers
The Problem:
Power Steering pump overheats on track, can cause fire.
The Fix:
1) Bigger radiator for the cooling of the power steering fluid
2) Change the power steering cap that has a drain that pours fluid under the car, instead of randomly allowing the cap to leak or pop spraying Power steering fluid all over the exhaust and causing a fire.
3) Electric power steering
The Problem:
Possible Air Starvation to the rear cylinders
The Fix:
1) Larger Throttle bodies(if there is even an option todo this, or if its even a gain)
2) Independent Throttle bodies, engine tune focusing on exhaust levels on each exhaust port, not simply at the OEM sensor location.
3) Slightly Larger volume injectors
The Problem:
Rear Toe Deflection caused by questionable suspension parts choices by Mopar.
The Fix:
IPSCO "rear toe deflection" brackets
The Problem:
Oil in the intake charge causing carbon build up at the base of the valve.
Lowered Octane caused by oil vapor in the intake charge.
The Fix:
Oil Catch can.
Last edited: