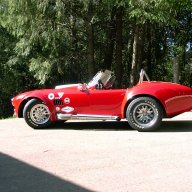 Joined

Dec 21, 2021
Posts

18
Reaction score

1
Location
Ok, I know this has been discussed a bit in the past BUT here's the lowdown:

First noticed an engine light after the second auto car wash I tried. Not sure if it had anything to do with the problem. '04 Viper about 20K miles always garaged. Engine missed a couple times on the way home but was fine after that. I am the second or third owner. I think the car is mostly stock with the exception of a Corsa exhaust and a BBK throttle body.

Next day or two noticed I had to muscle up to get the car in reverse. Checked all the fuses which were fine. Bought a scanner and ran a system test. Results: "A short or open reverse gear solenoid." After 2-3 weeks got a new solenoid from Dodge and put it in. Did not fix the problem. Still need Popeye to get it in reverse. Wires are all like-new.

Any idea on what direction I should go next? Previous threads didn't provide much help. Next step, if I can't find the issue, is off to the local garage. Not sure they are much ahead of me on the learning curve.

Help!!