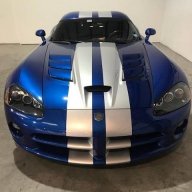 VCA Venom Member
Venom Member
Joined

Sep 16, 2014
Posts

188
Reaction score

81
I'm putting together a list of those who have expressed an interest in running at Space Florida's shuttle landing facility. It's over 3 miles of the smoothest exterior concrete surface in the world and there's no other place in the world like it. The event is Nov 4/5 and we will be doing 1/2, 1, 1.5, 2 and possibly 2.125 mile runs. There's no better chance of getting your car up to 200+ MPH and setting a new world record. The cost per driver that includes a guest, professional video with helicopter/ground cameras, tons of pictures, etc. is $1850 and you can bring up to 2 cars, you can only have 1 on runway at a time. If your guest wants to drive it's an additional $500 without the video, if they want a video it's an additional $750, total of $1250. You also have to join International Mile Racing Association for $55 to participate. IMRA runs the timing lights and certifies the speeds. There is only room for 40 cars and we have 26-30 total at this time ( including 15 Hellcats ) I'm working on details for the additional drivers/cars not shown below. After we get to 40 we will place others on standby. Adding your name/details at this point doesn't obligate you to pay, at some point there will be a deposit required and you will need to decide then. The event is run by Performance Power LLC/Johnny Bohmer and you can google BaddGT or Johnny Bohmer to see info on past events. It's a really over the top event and no one will leave there disappointed. Let me know thru PM and just copy/paste your info to the attached list. Thanks, David



DM+1 2010 SRT 10 Viper NA Modified
JC+1 2001 Viper GTS NA Modified
JD+1 1997 Viper GTS NA Stock
PS+1 2013 Viper GTS NA Modified
PT+1 2005 SRT Viper NA Stock
MB+1 2008 SRT Viper NA Modified
CM+1 2013 SRT Viper NA Stock
JS +1 2008 SRT Viper/2016 Challenger Hellcat NA Stock/SC Stock
LR+1 2017 SRT Viper NA Stock
MP+1 2015 Cadillac CTS-V SC Stock
DM+1 1966 Plymouth Belvedere TT Modified

Plus (15 ) Hellcats and approx. (4) others I don't have complete info on.