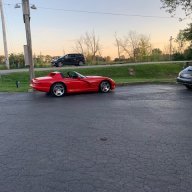 Joined

Aug 20, 2020
Posts

10
Reaction score

2
Location
So I just got my first viper (02 RT/10) a few weeks ago and have been told to check the fluid level in the hidden overflow tank behind the passenger side front wheel. I took my phone and snapped a photo of the current level and there is only about 3/4" of fluid in there. assuming this is NOT good. the seller just had ALL the fluids in the car changed this past April. if this is low now I'm thinking i need to look at everything this guy touched because he didn't know what he was doing...
Any help on the short list of below items would be extremely helpful! Thanks guys!
1. where should the fluid level be in this tank located in the front bumper area? half way up the tank?
2. What is the best process to fill this overflow container? I read somewhere that you can just take the hose off the tank in the engine bay and just funnel some in with a turkey baster. thoughts?
3. what type of fluid should I be using?
4. anything else i should double check that the guy changing all the fluids in April could have missed? ive checked the oil level and the break fluid looks to be at the correct level.
You must be registered for see images attach