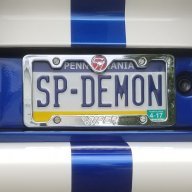 Joined

Apr 25, 2005
Posts

252
Reaction score

3
Location
Recently had the top radiator hose burst after I finally got her running after a 4-yr layaway. Purchased new silicone hoses from Sean Roe since he had best deal. Super fast shipping and even refunded me some for shipping cost. Thanks Sean!

Hoses seem to be great quality but my concern is that there is a real sharp finned metal thingie (see attached illustration) where the hose appears that it will rest on top of after it is installed. The OEM hose had a metallic braided shroud which protected it. I am concerned that the soft silicone hose will rub against this and eventually fail. Has anyone else installed these and had the same concern and if so, did you do anything preventative to protect it? Anybody have a problem with the silicone hose failing? Is it possible I am not installing properly?
Also, does anyone have the illustrated burping instructions? Yes, I have searched and reviewed all the burping threads out there. From what I gather, JonB had done a great burping illustration but it has apparently been lost or at least I can't find it anywhere. Also, most of the pictures in the old threads have been removed which is disappointing.
Any help from my viper brethren on either of the above issues would be most appreciated.
You must be registered for see images attach