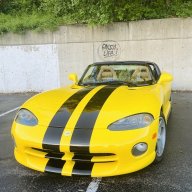 Joined

May 25, 2023
Posts

29
Reaction score

2
Location
I started looking for a sports car earlier this year and Vipers were always out of my price range. So I kept looking and stumbled across a yellow 95 from a guy nearby. Ended up picking it up for $39k. Something I should have done before purchase is
get it inspected by someone that knows Vipers
and I could have probably negotiated several more thousand dollars. But I didn't have any Viper friends to guide me through the purchase. Overall I'm happy with the purchase.
Neither of us knew much about the history of the car. Previous owner picked it up from a dealer. I ran the VIN and it looks like he was the second owner. The car was sold at an eBay auction the year prior and originally sold in Illinois and transferred to Pennsylvania. From the little information found in the glove box, the car might have been involved in a ****** for-hire of an FBI agent, but I still need to dig a little deeper. For now that's the story
So I drove the Viper for a couple weeks, let my father-in-law drive it, let my friend drive it. Everyone loves it and no major issues have been identified. I started looking for a knowledgable mechanic after taking it to my local guy to take a look. My local guy is good, but this is the first one he has seen. Finally found Brian at
Flossmoor Family Auto
. I took it over there, Brian drove it, we put it up on a lift and started going through it. Brian knew the car like the back of his hand. We went through it for a couple of hours and made a list. We found an issue with the diff and he didn't want me to drive it back home (~70 miles) so I left it there. While we wait for parts, he was accommodating and put the car in storage.
I started going through the forums, all the on-line parts stores and came up with this
list
:
https://docs.google.com/spreadsheets/d/12fB72pYmEHCvD9v-M7lyY9ifZP2OxS6_PljvdpPh1ME/edit?usp=sharing
Brian and I went through the list and he talked me out of doing the suspension this year, because it didn't really need to be done. So maybe next year, we'll hit all the bushings and a couple ball-joints.
For now, I'm waiting for all the parts to come in while having withdrawals at night. I'll update this with pictures and progress as Flossmoor gets started on the work. Thanks to Jon, Chris, Jennifer, and Cory for hooking me up with all the parts I need.
-Chris
1992-1996 Roe Parts List
MotoIq Project Viper
Last edited: