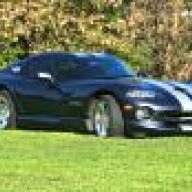 Joined

Jul 20, 2010
Posts

418
Reaction score

0
Location
Ok I dynoed the car over a year ago for a base line. 2000 GTS cream puff . The mods at the time were smooth tubes, filters , Mopar performance cat back (borla) exhaust and cats deleted. Car made 406 WHP and 446 Ft lbs torque. Air fuels were pig rich low to mid 11's. I sent the dyno info to Torrie McPhail at UnleashedTuning.com bought an SCT from him with 3 tunes on it 91,93, and 94 octane. The 91 octane tune dynoed at 421 WHP and 461 Ft lbs. The 93 octane tune dynoed 424 WHP and 467 Ft lbs. The 94 octane tune dynoed 426 WHP and 468 Ft lbs. I was happy with the increase for a mail order tune.
Now over the winter I did some tinkering. I bolted on a set of headers and a set of gen III rockers that I shimmed up for clearance of the stock valve spring retainer.
http://forums.viperclub.org/threads/663744-Gen3-rockers-on-a-Gen2-FYI
I'm sure your wondering what kind of headers i put on. Well I'm no baller so spending 1.5k - 2.5k on headers was out of the question. So A member here was selling a pair of those E-bay stainless steel SVS knock off headers. After getting them and looking them over. I took them to a local welder and had him tig weld the tubes on the inside of the ******. $60 to do all 10
After doing the install of the headers and rockers I sent Torrie an e-mail telling him of the mods and asked about revised tunes. He replied quickly and sent me a revised 91 octane tune to try. Well the #s are in the car made 444.74 WHP and 490.11 Ft lbs on the 91 octane tune.
Here are the Dyno sheets in order from base line to today and video from today.
http://www.youtube.com/watch?v=0HGTDUGgvO8&list=UUFNv-57T23dY1FO3fsHO9DA&index=2
http://www.youtube.com/watch?v=6IPfD8ZyJ3k&list=UUFNv-57T23dY1FO3fsHO9DA&index=1