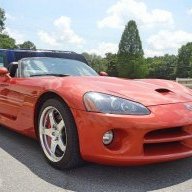 Joined

Dec 24, 2009
Posts

4
Reaction score

4
Location
Far too many times we don't always recognize positive experiences when dealing with companies. Last week I decided to pull the trigger and put new tires on my Copperhead. Initially, I checked my local tire suppliers but no one had, or could get, the tires I wanted (Continental Extreme Contact Sport). Recalling a conversation I had last year with a friend, I decided to phone JonB at the Viper Parts Rack. I must admit that I have heard mixed "stories" about him but life has taught me to be open about things.

I made my 1st call not realizing he wasn't open yet. He's in Pacific, I'm in Eastern. I got his voice mail so I just hung up. Not 1 minute later, my phone rang... it was JonB calling to ask me if he could help. I explained what I wanted and he told me they were available but had a suggestion that I'd be pleased with. He asked a few questions as to my current rims, tires, suspension, and mileage. He then suggested his "Bigfoot" package which changed the sizes. I decided to go with his recommendation and placed my order. He told me I'd get confirmation in my email. About 9:30 that night (5:30 his time), I received notification.

Not 24 hours from the time I placed the order went by, that I had them delivered to my garage door... NOT 24 HOURS! Talk about service!!! Thank you JonB.