Welcome to the Viper Club of America!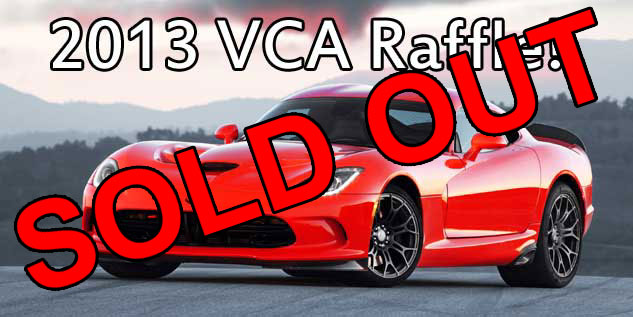 That's right, one of the most hotly anticipated raffles in Viper Club history has officially launched. The Grand Prize is perhaps the best brand new Viper ever offered: The 2013 SRT Viper in Adrenaline Red - and the first to feature not one, not two, but all three optional carbon fiber groups - interior, exterior, and the Advanced Aero Group. Want more? You got it! This special car also has the special Track Pack option with two-piece rotors and the gorgeous Hyper Black Sidewinder II lightweight wheels. It even has color-matched red seatbelts to go with the optional black leather interior.
Of course every VCA raffle has traditionally featured other great prizes and this one is no exception. Second prize is a full twin turbo system for any Gen 2 Viper donated by RSI (installation not included). Third prize is a set of 2013 Hyper Black Sidewinder II wheels donated by Viper Parts of America. There is even a fourth prize: A full set of Pirelli tires for any passenger vehicle for which they make tires - generously donated by Pirelli Tire North America.
Of course you can't win unless you purchase raffle tickets, so be sure to visit http://www.viperclub.org/raffle to buy your tickets today. With so many folks eager to get their hands on a brand-new 2013 SRT Viper, here is your chance to get one in your garage for the price of a single winning raffle ticket.
Haven't renewed your membership for 2013 yet? Visit https://www.viperclub.org/membership/ to renew your membership right away and get your ticket before they possibly sell out. This is one amazing raffle you won't want to miss!
2013 SRT Viper The Return of the Snake (Official Release)
2013 SRT® Viper – The Return of the Snake
Street and Racing Technology (SRT®) brand's flagship performance machine returns with more power and performance, superior craftsmanship, new technologies and creature comforts
· Two new models include SRT® Viper and SRT Viper GTS
· All-aluminum, mid-engine 8.4-liter V-10 delivers an estimated 640 horsepower and 600 lb.-ft. of torque – the...
[read more]
Once and Future King
Summer, 2010. The final Viper rolls off the Conner Avenue assembly line. With it a celebration of Viper's spectacular run from 1992 - 2010 takes place. But the Viper Club of America would not accept that this was the last Viper.
How could the club bring the car back? How would it communicate the passion and opportunity for the car to Chrysler's new partner, the FIAT Corporation? At first, petitions were a consideration. A thousand deposits calling for a new and unseen next-generation car could be a strong incentive. Such an...
[read more]
Announcing the 12th Viper Owners Invitational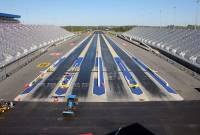 The Viper Club of America, in conjunction with the SRT division of Chrysler, is very pleased to announce the 12th Viper Owners Invitational. This spectacular event will be hosted in Charlotte, NC from September 27-30, 2012. Tentative driving activities include road course, autocross, go karts, scenic cruise, and drag strip. As always, excellent meals will be provided Thursday through Saturday, with a...
[read more]
Latest threads in the forums!