Welcome to the Viper Club of America!
---
WE HAVE A NEW REGION!
Viper Club of America is so excited to announce the addition of a new VCA Local Region: The GULF STATES REGION, headed up by an awesome and enthusiastic member - Lisa Rachall.
Lisa, some of you might know her as Broomrider, joined VCA in 2015. Since then, she has been active on the forums and has participated in several events in the No. Texas area; but, she wanted to do more. So, she volunteered to head up the area for Louisiana, Alabama, Arkansas, Oklahoma, and parts of Texas.
Even at just a few weeks into the 2016 year, Lisa has been throwing out some great ideas to get this club moving. She and her husband have the time and ability to be able to organize and participate in VIPER Drives, Pick-Ups and Special Events. And, Lisa is ready to roll.
So, if you live in the Gulf States Region, keep on the look-out for Lisa. She is determined to meet you face-to-face, one way or another. I know y'all are going to have some fun this year!
Welcome Lisa, and Welcome Gulf States Region!
HAPPY NEW YEAR VIPER OWNERS AND ENTHUSIASTS!
I sincerely hope that everyone had a great Holiday and Happy New Year!
As this new year starts, Viper Club of America has already seen some changes being made. If you have not heard by now, I am the new President of VCA. My name is Bill White, and I am also known as the other half to THE JANEY, my wife. Over the years, we have met many Viper Owners and Viper Enthusiasts at different events around the country, where we all joined together to celebrate our passion for the Viper. And, if you were lucky enough to attend one of Janey's events, you'll know how passionate we are when it comes to this whole Viper Nation; and, also "lol" why I am known as the other half (believe me; no one can keep up with her).
Now to get to the work at hand... If anyone would have said two years ago that I would be President of VCA, I would have replied, "No way," but, here I am. I came into this position because Dan Everts needed to step down and retire. I was officially elected in by the Club Officers and Board Members when I offered to step up and work for the club in some manner. Well, open mouth and you get a really big foot! That is how it came to be----Daaaaaa!!!! No!!! I really want to be here. Like I stated before, Janey and I have an exceptional amount of passion for this club and the members who support it. We want to be here for you.
I also have some really great people working with me, on behalf of VCA. First, of course, is my wife, Janey, who leaves no stone unturned when she is working on a project for the Viper Nation. Second is CJ----who is not second to anyone; it's just that Janey is my wife. CJ is our Club Administrative Officer. She is our/your anchor point and handles all of the day-to-day business affairs for VCA and Viper Magazine. We also have some other members and enthusiasts who have volunteered to step up and help the club, and we will introduce them to you as time goes on. With the help from the club's officers, directors, regional presidents and members, VCA is going to grow!
As for the financial status of VCA...
This is something that actually took me some time to get straight. In order to understand it, I will need to discuss a little history. I know that this is a subject that most of you do not want to involve yourselves with, but it is something that we have to bring to light in order to understand VCA's financial standing.
From what we can tell, back before the break up of VCA, the club and its officers were spending a lot of money, which wasn't a problem at the time. The club had it to spend and it was approved by the board. Then, the friction started and funds started to dry up, but the money was still continuing to be spent.
The first expense we have continued to tackle is for Attorney fees that were run up by several of the former officers, who have since left the club before and during the break up. Don't know exactly what these fees are for; only know that they are financial obligations and we intend to honor them.
The next expense has several parts: An IRS bill, the Attorney fees to represent VCA with the IRS, and the Accountant fees to insure that VCA filings with the IRS are correct. What happened? The IRS received a report from someone who had left VCA, stating that the club was not paying taxes incurred by the last [single club] Viper Raffle. This apparently triggered a complete, multi-year tax audit. There were some unrelated mistakes found, too, but most everything has been corrected. VCA has since paid the taxes that the club was responsible for, with regards to this raffle. We are still waiting, though, on a few other points before everything can be completely closed out. The persons responsible for this mess are no longer with VCA, so we will not hear how the IRS will deal with them. The Attorney who has been representing VCA has been doing a spectacular job. We have been and will continue to make payments on his bill, until we can get him fully compensated for his great work. And, there are also the Accountant fees. These, of course, will also be an expense that will continue to occur for the club.
The last outstanding issue is the result of a lawsuit with regards to the VOI 13 hotel contract. It is a dispute claiming a breach in contract between La Cantara and VCA. To date, we have paid the initial attorney firm $12,792.00, and they are requesting us to pay a remaining balance owed of $1067.00. We have been paying them a nominal amount every month, yet nothing has been moderated or settled; so, yes, we are terminating their retainer. We have a court hearing coming up in May 2016 and will continue to work on this matter. Rest assured that we have done our homework and regardless of what the court rules, this club will survive. We will keep you posted.
I know this is a lot to take in, but it is information that is long overdue. Every member has a vested interest in VCA and we want to make sure that you know the status of YOUR club - no more secrets.
With that being said, Viper Club of America membership renewals and joins are right on track with the numbers from the past couple of years; and, we have come a long way in this time. We are very optimistic that the strength of this club administration, board of directors and support from you, the members, will ensure that VCA can overcome these previously set obstacles and can continue on. In fact, we are in the process of planning the next VOI 14 (look for more details to come soon).
So, if you have not already done so - please renew your membership for 2016 now. And, thank you for being a part of Viper Club of America! I look forward to seeing you at an upcoming Viper Nation event!
Happy New Year!
Bill White,
President
Raffle Results!
Viper Club of America would like to thank everyone who participated in our latest Raffle. Your continued support is what keeps this club going.
And, the Winner is ...(drum roll)... Paul Serniwka of New Jersey, with his ticket number of 341. Paul is a long time VCA member for 15 years, to be exact.
Ticket sales fell short of the ACR, so the raffle turned into a 50/50 Cash Prize. Paul will be receiving about $21,000.00 after taxes. What a great Christmas Present!
Congratulations, Paul! Enjoy!
Again, Viper Club of America greatly appreciates everyone who participated in both of our 2015 Raffles. We were able to give two lucky Members each a nice cash prize.
Here's to looking forward to a brand new year in 2016.
WELCOME TO THE NEW VCA REGION
VIPER CLUB OF AMERICA SWEDEN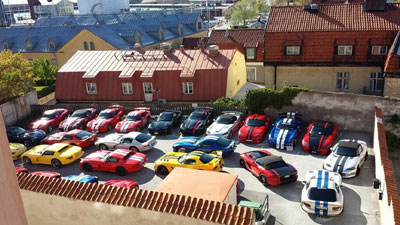 On behalf of all VCA Members, we would like to welcome the newest Region to Viper Club of America, and to the Viper Nation: Viper Club of America Sweden.
In September 2015, the first 20 members from the VC Nordic decided to join VCA as a new region with the name: Viper Club of America Sweden. Jan Falk is their Regional President.
The Viper Club Nordic was founded in 2002 and currently has about 100 members. This group of Viper owners is very active and has a great club life, organizing at least two main events every year.
There is an annual Spring Meet, where they always have a track day, a poker run day or similar, and a big dinner party in between!!! This year they were on the Island of Gotland and raced on the Gotland Ring. About 45 Vipers were tearing up the streets and track all weekend long! You can read about it in the new Viper Magazine.
Then this past July, they all met at Jan's house again for another Viper Meet. One of their members was racing his Competition Coupe at the local Track called "Knutstorp Ring". All of the members drove their Vipers to the track to support their friend. He showed his gratitude by winning the race! ... And again, they had a party in Jan's back yard to celebrate the event, of course!!
They also have a traditional meet coming up here in September, in Mora, Sweden, at another Club Members' house. The motto of this meeting is Drag Racing Hard and ... yes, you guessed it! ...they will party again!
Next year Jan will be the host to the spring meet in May, where the club hopes to gather the largest amount of Vipers in Europe ever! Jan said, "Together with Fredi, I will make sure the Viper community has all of the info in due time. It's currently planned to be at Knutstorp Ring which is located in beautiful Skåne, South of Sweden."
I know we Viper Owners in Europa are looking forward to meeting the members from the new Club, either somewhere in Europe, in the fall 2016 at the next USA VOI, or on the Knutstorp Ring. So, welcome VCA Sweden! We are glad that you are here!
Keating, Bleekemolen and ViperExchange.com Score Repeat Win Saturday at Circuit of The Americas
AUSTIN, Texas (September 19, 2015) - Ben Keating, Jeroen Bleekemolen and the No. 33 ViperExchange.com/Riley Motorsports Dodge Viper GT3-R team scored a come-from-behind victory in Saturday's Lone Star Le Mans IMSA TUDOR United SportsCar Championship race at Circuit of The Americas (COTA).
The hard-earned win was the second of the season for Keating, Bleekemolen andViperExchange.com and their second-straight at COTA after driving the No. 33 to victory in last year's Lone Star Le Mans.
The win also gave Keating a personal "three-peat" at COTA as the back-to-back Viper victories were preceded by his 2013 victory in a Porsche in IMSA ALMS GTC competition.
"We're just so excited," Keating said. "We won the last ALMS race here in 2013. We won the first IMSA TUDOR race here last year but I just didn't think we had the car that would win today. My guess is we were the fifth or sixth fastest car here today, but the race came to us and I'm just happy to be on the top step again. I had 50 guests here, the whole Viper Club of Texas was across the way. It's just super exciting."
The win was far from easy after the No. 33 was hit with a penalty after the first pit stops just 30 minutes into the race. Keating inadvertently drove through a red light at the pit exit and was brought back in for a 60-second stop-and-hold penalty.
Keating returned to the race on the lead lap but was 10th in the GT Daytona (GTD) class well behind the leaders. He ripped off a string of quick race laps throughout his second stint and handed the Viper off to Bleekemolen during a well-timed yellow flag pit stop.
Bleekemolen rejoined the race in eighth and soon raced his way into the top five. He advanced to fourth and could see the race leader and the second and third place cars in front of him as the race entered its final hour.
"It was great," Bleekemolen said. "For me, it was one of the most exciting races I've done because I came in the car pretty far in the back but after a yellow we were all together and had some great fights."
Bleekemolen's charge to the front included an action-packed two laps 45 minutes from the finish when he jumped from fourth to first, taking a lead he would hold until the finish.
"Some cars spun, some cars had penalties, some cars did the wrong thing for strategy and I overtook a few, so it was a really nice race and pure racing," Bleekemolen said. "I had to fight so hard and it feels so much better if you come out on top."
The victory was the second for the ViperExchange.com No. 33 in the last three races after winning for the first time this season at Road America in August.
The ViperExchange.com team is run by Riley Motorsports while its affiliated company, Riley Technologies, designed and built the Viper GT3-R.
"It was a great win today," said Bill Riley (center in picture), Riley Motorsports Team Director. "We had an issue with the penalty early but then we just kept pushing. The race came to us and a lot of people had a hard time. After we had our issue, we were just like clockwork, so it was clear sailing."
Next up for ViperExchange.com and the IMSA TUDOR United SportsCar Championship is the season-ending Petit Le Mans at Road Atlanta, October 1 - 3.
"We hope to finish the championship in a strong way," Bleekemolen said. "It isn't done, but we're pretty far behind after some bad races early in the season, so realistically we just have to give it our all and see where we can finish. We have to try and win another one."
Ben Keating and Jeroen Bleekemolen Finish Second For ViperExchange.com in Lime Rock Park Northeast Grand Prix
LAKEVILLE, Connecticut (July 26, 2015) - Ben Keating and Jeroen Bleekemolen drove the No. 33 ViperExchange.com Dodge Viper GT3-R to a season-best second-place finish Saturday in the Northeast Grand Prix at Lime Rock Park.
The result was the first podium of the season for Keating and Bleekemolen in the No. 33 and capped a competitive weekend that also saw Keating qualify a season-best second and lead Saturday's race.
"Everybody did a great job," Keating said. "Jeroen was really quick out there. This is one of those tracks where it's a bunch of right hand turns, and setup makes a huge difference. I really feel like we owe a lot to Bill Riley and our team engineer Tyler Hook. They really made the setup work. They learned a lot from when the GTLM cars raced here."
The competition in the ultra-close GT Daytona (GTD) class out-paced the Viper in certain parts of the 1.5-mile, seven-turn Lime Rock track, the shortest circuit on the IMSA TUDOR Championship schedule.
"The other cars that we were racing against were quicker in places, but our guys had good notes and some competitive history here to call on," Keating said. "We really did a lot of what I think is crazy stuff to do well on the right hand turns, and even asked if we could run both rear tires on the left-side of the car and the front tires on the right side. IMSA said no but it was thinking like that that kept us in the hunt all weekend."
Keating didn't let a pair of unnecessary bump-and-run contact incidents from Prototype Challenge (PC) cars in his race-opening stint stop him from racing to the lead. He and the team worked the No. 33 to the front and pitted under caution for Bleekemolen to take over.
"We gave it our all, we had a really good car, really good setup, so we maximized everything," Bleekemolen said. "I think we had also the perfect strategy for where we are. We basically did everything right and still came home second, so it was a bit disappointing, but we can't blame ourselves. We did everything we could."
The No. 33 took the checkered flag behind the race-winning BMW that paired unbelievable fuel economy with a class-leading pace that produced the fastest GTD race lap.
"I really don't know how the BMW was able to stay out so much longer than us, stretch their fuel, and still be the fastest car," Keating said. "They just beat us on fuel strategy, but we really thought they were going to have to come in again."
The ViperExchange.com Riley Motorsports team earned a good result for the No. 33 team to kick-off the final five-race stretch of the season.
"The guys did a great job, we had great stops today," said Riley Motorsports Team Director, Bill Riley "Tyler Hook decided to show up with more of an oval setup, we stuck to it and worked on it a bit and it turned out to be the way to go. It's a shame we didn't win today, because we had a really strong car, but the 97 car got us on fuel mileage. We'll just figure that out for the next time."
Next up for ViperExchange.com is the Continental Tire Road Race Showcase at Road America, in Elkhart Lake, Wisconsin, August 7 - 9.
VCA Raffle Results!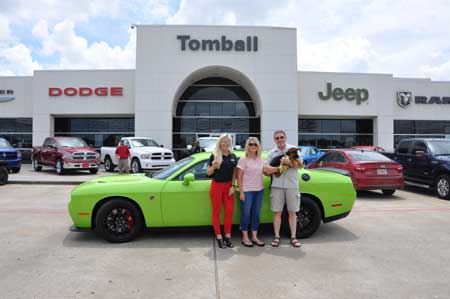 The Viper Club of America would like to congratulate Mr. Wendell Loban from Coldsprings, Texas as the winner of the 2014 Hellcat Raffle. The winning ticket number was 1296. Even though the raffle did not sell out and was a 50/50 raffle, Wendell still took advantage of the Hellcat allocation the VCA procured and is ordering his Hellcat Challenger through one of Ben Keating's (Viper Exchange) dealerships.
We would also like to thank everyone who participated in this raffle. We are working on putting together our next raffle, which is planned to be a 2016 Viper ACR. You can renew your membership now or wait until the next raffle is announced if you'd like a chance to win the next ACR. Raffle ticket prices will start at only $100 for Venom members and there will be discounts for multiple ticket purchases.
Stay tuned for the next Viper Magazine article featuring some photos of Wendell and his Hellcat. Our next issue of Viper Magazine is being laid out now and will be featuring stories on LeMans, VCA member tours of Prefix and Arrow, Herb Helbig's Tech Notes, some interesting Gen V info and articles on local events.
Hope everyone has a wonderful summer and a safe driving season.
VCA Board of Directors
Congratulations Viper and SRT!
SRT® Motorsports won the 2014 IMSA TUDOR United SportsCar Championship GTLM driver and team championships in the season-ending Petit Le Mans 10-hour endurance race at Road Atlanta on Saturday, October 4. Kuno Wittmer captured the IMSA TUDOR Championship GTLM driver championship with a third-place finish at Petit with co-drivers Marc Goossens and Ryan Hunter-Reay in the No. 91 Dodge Viper GTS-R. The team's sister No. 93 Dodge Viper GTS-R in turn captured team honors after being driven this year by Wittmer, as well as Jonathan Bomarito, Dominik Farnbacher and Rob Bell,...
[read more]
Registration for VOI 13-COTA
Registration is now open, and space is limited, so if you want to have the best time on Earth, with the best car on Earth, at the best track on Earth, sign up soon! This event is open to ALL Viper owners; a few notes: You will get more track time than any other VOI, at a real-life F1 Track, 3.4 miles long, 20 turns, with elevation changes On-track instruction, so if you've never been on a track before, you will get the confidence, and knowledge, you need to have a blast (and be safe) We have full-reign over COTA (for 2 days) and the drag strip...
[read more]
Congratulations to the GTS-R #93 car for their 2nd place finish at Sebring on March 15th
Drivers Rob Bell, Jonathan Bomarito, and Kuno Wittmer all led the race at various points , including Bomarito in the final hour of the race. The final caution of the race sent the 93 car to the pits, while the Porsche 912 pitted under green before the yellow flag flew, giving that team good enough track position for the win. The 91 car led the race twice, and finished in 7th place. Early in the second half, Hunter-Reay spun the 91 car in Turn 17 and ended up in the tire barrier. Ben Keating was driving the Viper Exchange GT3R #33 car just 35 minutes in to the race when ,...
[read more]
Latest threads in the forums!