Welcome members!
Welcome to the best car club on the planet! From this page, you will be able to update your account, find information on Zones, and much more.
Viper HQ
Need to talk to someone about your membership, or have a question you'd like a quick answer to? Contact Viper HQ!

Support Office
Viper Club of America
Ph/Fax: 800-677-4321
Ph: 972-882-6814
Fax: 972-767-0773
Email: [email protected]
Office hours are 9am to 5pm M-F CST
Your account
Is now maintained on the Forum
We no longer use this avenue to process memberships. Please login to the forum .
Before you can renew or join the Viper Club of America, you will need to log into (or join) the Viper Club of America forum. Once logged in to your VCA Forum page, here are the next steps to joining or renewing your membership.
Step 1: Click on your log-in name located in the upper right corner of the screen.
VCA Forum

Step 2: Click on Account Upgrades in the dropdown box.
Step 3: Select the membership level of your choice (Standard Annual Membership - $50 or Venom Annual Membership - $75). Once you click on the {Purchase} box, you will be re-directed to {Pay with PayPal} (A PAYPAL ACCOUNT IS NOT REQUIRED)

Step 4: A PAYPAL ACCOUNT IS NOT REQUIRED - click on Pay with Debit or Credit Card and proceed to the next screen. (If you have a PayPal account, you may log in to your PayPal account and complete the transaction)
Step 5: Enter required information and click {Pay Now}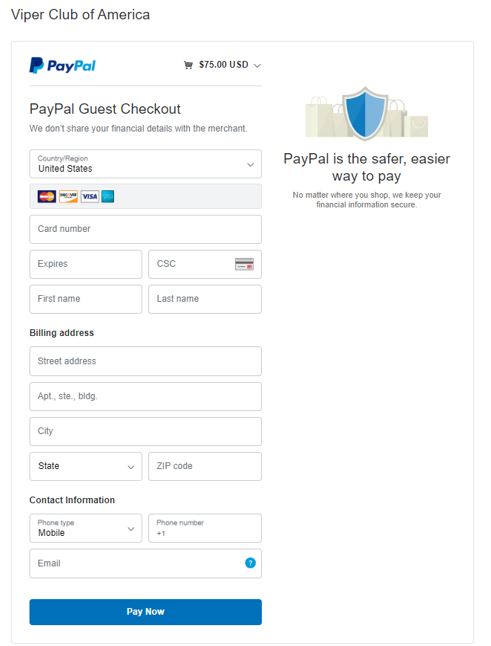 VCA Forum
Questions, or need assistance, please call us: 800-677-4321
Viper Club of America Zones
With zones covering the United States, and even zones in other countries, there is sure to be a zone close to you.
Click here to view the list of all of the Zones
Club bylaws
The Viper Club of America Bylaws and related documents on this page, are available in full in PDF format only. Most modern computers will open the files below automatically; if not, you may need to download the free Adobe Reader.
Click here to download the bylaws
Elections of Directors
The Director at Large (DAL) elections are held in even numbered years. The Zone Director (ZD) elections are held in odd numbered years. Nomination forms are available here.
Click here to download
Members only section
One of the many perks of your membership in the Viper Club of America, is the members only section of our forums. If you have not upgraded your forums account, send a PM to one of the moderators and they can assist you.
Click here for the special forum