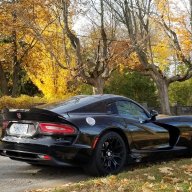 Joined

Mar 3, 2013
Posts

635
Reaction score

8
Location
I was back at the track to focus on a couple of things I thought I could improve in my driving. I've built a lot of confidence over the last 3.5 months of driving and tracking it, and now that I'm there, and lap times have really improved, further gains are going to have to come from improved driving. The areas I'm working on are:
-looking further ahead
-using lower gears to provide harder acceleration exiting corners
-brake later, harder, and get back onto the throttle quicker
It was another 6th Gear open lapping day, open only to advanced drivers, but unfortunately it was fully booked. They did however allow me to come at 3 pm, as they knew some cars would have started packing up by then. That was the case, but it's a bit tricky going out cold onto a track with guys that have been warming up all day and have become both very fast, and in some cases, quite aggressive. I needed to warm up my brain and tires quickly.
I'm not sure the brain ever quite got there, and the tires seemed to take quite a while also. I reduced pressures to 26 psi cold to allow for initial increase from heating, pitting three times to check and reduce ever-increasing pressure. I settled on 32 psi hot, half way between the 30 I had been running, and the 34 that Erich at SRT recommended I try with the Pirelli Corsas that come on the TA (and Track Pack optioned Vipers). I'm still on the originals, with the fronts worn almost down to the wear bars on the outside half of the tread face. Inside face definitely has more tread, showing that even more negative camber would be beneficial beyond the 2.5 degrees that the TA comes with. Erich recommended 2.7 to 2.8 to Venom V and myself at Homecoming, and VV has recently done just that. I will as well soon. Rear tires are barely worn, and might even out last a new set of fronts.
You must be registered for see images attach
The car handled well, but different in a couple of ways this time around. Where I had been getting just a hint of push (understeer) going really hot into some tight corners, that was now completely gone, even though I was attacking the corners more aggressively I think. But instead I was getting the rear a bit loose, both under braking and throttle on exit. It may be that the Corsa's grip is increasing as the tread wears down on the front, much like the Toyo RA1 R-compound that peaks when almost all tread is gone, but you might also expect the grip to be reduced from many track heat cycles and driving over 7000 miles. Either way I continue to be very impressed with this tire. The rears may have seemed to lose grip because the fronts had improved more relative to the rears, and my corner speeds increased just enough to exceed their grip, or perhaps it's got something to do with the extra 2 psi.
You must be registered for see images attach
Further evidence of the tires maintaining their grip is the consistency of the car's peak G-Force recorded in the SRT function pages. I had reset it to zero on the way to the track and it then matched the same peak cornering grip as had been recorded in my first 7 track days at 1.5 g both left and right, and slightly improved in braking g's at 1.44g. That's awfully impressive considering the heavily worn front tires.
You must be registered for see images attach
The other change to handling is that my rear wiggle under braking returned after vanishing 3 track days ago. The only change I can think of is the extra 2 psi. I continue to use "Track" ESC and "Race" damper modes. I'm back out on the 19th and will play with pressures a bit. I only notice it under extremely hard braking at very high speed, which is every 95 seconds or so at the end of the back straight at speeds a hair over 150 mph at times. Once I pitted to check tire pressures and brake pad smoke was wafting out between the spokes. Normally you do a cool down lap prior to pitting, and I usually do a slow lap around the paddock parking areas to have some moving air help cool them. Love the TA's brakes, can't fault them, but I wouldn't rule out the possibility of needing to upgrade pads or fluid if I ever went with slicks and dramatically increased the braking loads. Brake pads miraculously still have close to a ½" of material left front and rear. That's awesome considering what I've put them through!
You must be registered for see images attach
I really think many of you would be astonished just how fast and well-mannered the TA is on track, how dominating it is over most high performance cars, and how competitive it is with the best of the best… and I'm sure the same applies to the SRT and GTS models. An Aventadore is probably the only stock production car I've encountered so far that was as fast or faster on a straightaway. Both of these cars haul like they're modded, and I at least know that the TA can go the distance running strong and cool. A well-driven new 911 GT3 (991) with every nanny known to man couldn't keep up. He raved about the DCT, it probably had CCB's too, but while I respect the car and was truly happy for the man having found a car he enjoyed, the contrast in approach to performance just made me appreciate the Viper that much more.
I tested the Viper's endurance over a solid 90 minutes of continuous aggressive tracking, with only very quick stops to check tires and one 10 minute pit where they had to stop the whole track. Some Porsche driver ed/lapping days I've been to ran a 90 minute enduro, with a mandatory 5 minute break. That was a signiture and popular feature of their events, and my restricted track time at this event created that opportunity, and I pitted with only fumes left in the tank! Temps stayed well within the normal range, tire grip didn't become greasy from over-heating, and I didn't get fatigued at the wheel. I was so focused on getting the car and myself safely warmed up in a hurry that I basically didn't spend much time working on my goals. On the break a woman on pit lane asked if she could go for a ride-along with me and I reluctantly agreed to it. It further distracted me, but it turned out she had won the day at the track in a contest, and I was happy to make it memorable. She said she had always wanted to go for a ride in a Viper…and I'm pretty sure I gave her one to remember!
The next event is on a smaller and safer track at Mosport, and I'll be using that to hopefully get the car loose to practice driving on the limits of adhesion, and regaining control after exceeding them. Things could get a little messy, but exceeding the limits is an invaluable lesson in learning to drive within them. In September I'll have the pleasure of a private coaching day at Mosport with SRT team driver Kumo Wittmer. We'll be using data-logging to identify opportunities for improvement, and I plan to be as prepared as possible.
I was unable to upload an 8 minute video segment moving through traffic, but here it is broken into shorter segments. I'll post the link to the fix once I figure it out.
https://www.youtube.com/watch?v=ElNwecHk6mI
https://www.youtube.com/watch?v=u2GxW5TvcLc
https://www.youtube.com/watch?v=nSEeJAbgUrM
https://www.youtube.com/watch?v=UHNcSntss48
https://www.youtube.com/watch?v=qyMZ9pPGGG8
https://www.youtube.com/watch?v=scPkIZNpA5Y
And just when I started to do a cool-down lap I noticed the event owner's full-on race car in my side mirror coming up behind and thought it's be nice to follow him for a moment. He then started his cool-down as well.
https://www.youtube.com/watch?v=_CQSkEzGeFs
https://www.youtube.com/watch?v=dIW3L86Yvf8
Thanks for your interest, and thanks to our friends at SRT for their passion and daring in designing and building such an engaging, uncompromising and unapologetic driver's car. I hope a lot more serious enthusiasts will discover the Gen V Viper in its natural habitat where it rules supreme! And if you don't happen to need world-class supercar performance I think there's still a pretty good chance you just might fall in love with this exotic for a very broad range of other good reasons!
Here's a once in a lifetime video comparison test by EVO magazine of some of the best analogue exotic supercars ever built. They share the Viper's same goals and virtues, all are magnificent, and all are wonderfully flawed. This look back really helps put today's Viper into perspective, and how it will become more appreciated into the future. My all-time favorite video review, and it's time very well-spent. Enjoy!
https://www.youtube.com/watch?v=QCpCbZaD8xc&feature=player_embedded&list=UUFwzOXPZKE6aH3fAU0d2Cyg
Bruce