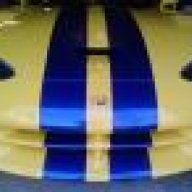 VCA Venom Member
Venom Member
Joined

Oct 2, 2000
Posts

8,501
Reaction score

156
Location
IN/KY..SPECIAL VIPER SERVICE SESSION #9 with Tom Sessions...October 10-14, 2016 at Indy's Champion C-J-D-R
Hello, All:

The long awaited SPECIAL VIPER SERVICE SESSION #9 with Super Viper Tech Tom Sessions at Indy's Champion Dodge will take place on October 10-14, 2016.
Historically, there has been considerable interest shown in this opportunity by our members. Newer members usually have a few questions that I'll try to answer below (this is "old hat" to many of you)...along with some important recent changes:
#1
Tom will be here working as an
official employee of Champion C-J-D-R
.
Therefore
,
ALL billing will go through the dealership's Service Department.
Tom is NOT being hired by our club.
#2 If parts need to be ordered, they can be ordered through the Champion's Parts Department...OR, YOU may try procure them on your own. PLEASE do this WELL IN ADVANCE if at all possible. This is especially true for those wanting new tires mounted as you will need to schedule a separate appointment with our recommended (nearby) installer...Aaron O'Cull at Northwest Frame and Alignment 317-873-3773.

#3 As we are trying to accommodate as many owners as possible during this week long event, considerable pre-planning and REALISTIC scheduling are absolute necessities...especially if parts need to come from outside vendors!!!
The old "my Viper needs service" declaration will need an expanded explanation PRIOR to scheduling service!!
This is especially important for this Service Session to avoid turning away anyone. PLEASE contact Steve Fess with your service needs, repairs, upgrade/modification plans, and/or recalls as a "pre-screening" consult so that we can help guide both the scheduling process and parts acquisition process in an efficient manner.
#4 ALL Viper service appointments MUST be made directly with Ms. Keisha Tranbarger, Viper Service Advisor at Champion. To do this, call 317-872-6200 Extension 2035...and ask for "Keisha Tranbarger in Service". You can also call/text Keisha directly at 317-989-4691. Please follow up your call with a brief email to Keisha describing your Viper's service/repair/warranty/recall needs. Keiska's address is

[email protected]
I will also send ALL service communications that I receive from you to Tom Sessions for review as HE is the EXPERT doing the work.
#5
THIS IS NOT A CLUB "TECH SESSION" !!
#6 Champion's address is:
4505 West 96th Street, Indianapolis, IN 46268

#7 REMEMBER the dates: Monday (8:00 AM EDT), October 10 through Friday October 14, 2016 (6:00 PM EDT). If need be, you can drop off your Viper the weekend preceding our posted working dates.
#8 If your Viper needs a Recall or warranty work, you WILL NEED TO have your VIN
handy when you call to schedule your appointment. If you need a "pre-session consultation", call me and I can try to arrange same with Mr. Sessions per telephone.

#9 NOTE: due to the volume of work anticipated, let alone any mechanical or logistical "surprises", it is rather impractical (but not impossible) to wait on one's Viper to be serviced. Plan ahead !!

#10 REMEMBER that some Viper fluids are time dependent...and, can lead to corrosive problems and component failure. Because of this fact, I always change brake fluid, clutch fluid, and coolant on a more frequent schedule as cheap insurance. This also nets me a very important safety bonus by having one of the best, most experienced Viper Techs in the world look over our Vipers in case there is an impending problem that may not be obvious to others.

#11 FINAL NOTE: The Viper Tech hourly rate at Champion is currently $135.00 per hour for
mechanical repairs...which is much lower that some nearby locations.
NOTE: The "service labor rate" for fluids will be charged at a discounted hourly rate.
ALSO: As an Active 2016 VCA Member, please remember to ask for any discounts that may apply to your parts and fluids.
If you have general questions, please contact ME ASAP !!

[email protected]
Looking forward to a great Service Session #9,

Steve Fess, IN/KY Region 317-402-9013
​