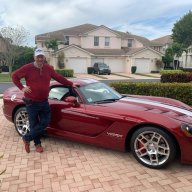 Joined

May 9, 2020
Posts

38
Reaction score

5
Hi Viper Friends;
I had a strange experience with my 2008 SRT 10. The car was shipped from the hot climate of FL to the very cold climate of Utica NY 32F and rain. When we unloaded the car it showed rather large,
5-10" white spots with streaks. In transit there was nothing that could have dripped onto the car.
We tried to remove the spots with all sorts of solutions to no avail. Finally we had to buff the whole car to remove the spots. There were some drip marks in the trunk even in FL. Since they did not show, I did not bother. When we got the paint of the car presentable again, I could give it successfully the final touch with Meguiar's 3 in 1 Wax to remove the last dull spots.
My question to you is: Did anybody have a similar experience? Does anybody have an idea, with what the car/paint was treated in the past? Did they possibly use a wax solution to preserve the paint, which turned hard and white with brush marks in the cold? Any suggestion would help, thanks.