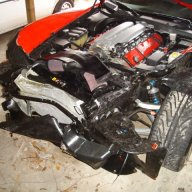 Joined

Oct 17, 2000
Posts

757
Reaction score

7
Location
It will be in Spokane soon (coming from Alberta), so if there is someone that can take a look at it for me I would appreciate it. It is a Red with White stripes Vert with about 7k miles and the seller says it looks like it rolled off the showroom floor. It needs tires and a battery but I just need a look for scratches, scrapes, etc., not a full PPI. And I will be happy to pay for gas, a meal, and whatever costs one might have if they help.

I have been looking for a Gen 4 (or nice Gen 3 if I cannot find one) and I recently had 2 looked at, a Red 2010 with 4700 miles on it and a Silver/Black 2010 with 5700 miles, and both of them had a lot of scrapes, scratches inside and out so I passed on both. When I asked the sellers in advance they both said they were like new and did not disclose the defects since if they had I would not have wasted anyone's time. I also had a Blue/White 2008 looked at where the seller said he could not see any scratches, etc. but when it was looked at they were everywhere - he either lied or never looked at it!

I know there are some that enjoy doing this, just as I do - I recently drove over an hour each way, bad back and all, to check out a Porsche for someone as well as for a Harley that was even further since I believe if I am going to ask I need to help if asked as well!

Thanks all and Merry Christmas!