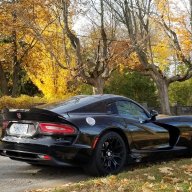 Joined

Mar 3, 2013
Posts

635
Reaction score

8
Location
Those of you who have followed my track threads know that I've been racking up the miles and track days… 6000 miles and 7 days over the 9 weeks leading up to this 2 day event with Chin Motorsports at the iconic Virginia International Raceway. I had carefully searched for a car that was not only ideally suited to surviving the grueling demands of track days without the need to install track mods, but would also provide exceptional performance and an engaging and analogue driving experience on the road. I wanted a car that I could drive to and from distant tracks with little more than a helmet, had luggage space for two, and this Viper delivers 110%.
A couple of days earlier my wife and I loaded the car for a 10 road trip vacation that would take us through several states, and on to Washington and Philadelphia after leaving VIR, where we met up with a track buddy and his wife to track and travel with. The car performed brilliantly in this GT role over 2500 miles, and Deb posted her "Spousal Report" thread covering its Grand Touring attributes.
You must be registered for see images attach
I had run with Chin before at VIR, the last of 3 trips being in 2006, and ran in their Advanced Solo run group, alternating 30 minute sessions with a novice/intermediate solo group and an instructor/race group. It was my friend's first time at VIR, but despite being a very advanced driver, he was placed in the novice group in his GT-R to learn the track with an instructor. Chin runs very safe and well-organized events. They're excellent whether you're a first-timer or expert, and you can choose their events at other iconic tracks across the US. Traveling the country to new tracks became a big part of the appeal, and my favorites so far include Road Atlanta, Mid-Ohio, Road America, Watkin's Glen, Mont Tremblant, and my home track, Mosport (renamed Canadian Tire Motorsport Park).
You must be registered for see images attach
There was a very diverse roster of cars at this event, with my group dominated by some very quick Porsche, the faster ones being extensively modified. I met my buddy's GT-R forum friend who tracks there frequently, he was very quick in his track-modded GT-R, and I enjoyed dicing it up with him for several laps in one session.
I met Viper racers Jim and Cathy Stout, owners of VIR, and L P Montour who was doing a shakedown on his new Comp Coupe that he was preparing to race in Toronto last weekend. I had met L P a few weeks earlier up at Mont Tremblant in Quebec, and he's definitely a young driver to keep your eyes on. He and the Stouts have all trained with SRT's Kuno Wittmer. I also met their team members, SRT Motorsports supplier Tom Francis, and Larry from Arrow Racing who was there tuning their ECU's at pit wall throughout the event. Arrow dynos every Gen V engine, and Larry figures he had probably done mine. He "highly" recommended the tune for my use that will be coming out for the Gen V. VIR has garages with accommodations above them for rent and that's were all three of their Viper race cars were parked and worked on between sessions.
You must be registered for see images attach
I expected Day 1 to be spent familiarizing myself with the track, and warming up my brain in preparation for being able to advance my skill at the wheel on Day 2. It was for the most part up until noon, but after that I was carefully exploring new limits. Every track presents different challenges and it's very useful to experience them. VIR presents the following which you can watch for in the video:
Front straight (with pit-in, long garage along pit wall, and pit out). This is very fast with speeds exceeding 140 mph in the Viper. The 180 degree hairpin Turn 1 is torture on the binders, and among the most demanding on any track. A huge run-off area encourages you to stay in the throttle until the last possible moment, and if you don't make it you simply run off safely. It also means you push the brakes harder than you would otherwise, and a couple of guys went agricultural there after standing on their brakes. My Supra's brakes use to have serious fade here every lap, but the TA's passed this acid-test with flying colors. The other challenge is the slight right kink half way along the straight, and is right where the track slightly crests and is off camber. It may not look like much on the track map but you're pulling some g's right there where grip feels tentative. My 6000+ rpm 4-5 upshift also fell right there, and you'll see me short shifting and feathering the throttle a little just before the kink to avoid unsettling the car. My goal next time there will be to take the front straight flat, brake even later, and carry more speed into and through T1. If you can't hear the tires protesting you're just corning too slow.
Uphill Esses A few corners later you go under a bridge and the following left is the start of the esses. This is a very quick series of bends that are taken at high speed. The video shows me going in close to 125 mph and exiting the top at around 100. That's a bit of a rush, and you have to get each bend right or it will throw you off for the next ones. Your hands are moving fast on the wheel, and slightly ahead of what you might think you need to for the car to react when it needs to. A video from behind would likely show the car drifting slightly. I worked on increasing my speeds through there, and would expect to progress to maybe 130+ mph both in and out at the top. You know you could have done it faster by the time you're half way through, and that confidence would come with more practice.
Roller Coaster and Hog Pen At the end of the back straight is a gentle left where I do the second downshift from 5th on the straight to 3rd for this complex series of turns. They're downhill, off camber in places, the car is partly unweighted, and you're pretty focused on keeping the rear of the car from passing the front! Not all were successful, but fortunately there's some room to go off safely. If you can string these together well it launches you onto the front straight with a higher speed that multiplies all the way down into T1.
The video shows the last 3 laps of a Day 2 session, and ends when the checkered flag is thrown at the Oak Tree Turn that leads onto the back straight. The first lap is clear of traffic and you get a sense of the layout and race line. The next couple of laps are moving through traffic. Chin passing rules require a pass-by signal from the car about to be passed. I wave off one at the end of the back straight because it was given late, but usually it's safe to take a pass. These events are safe because the drivers know they are a cooperative between drivers, and not a competition. Like-minded and experienced driving enthusiasts doing what they love…and breaking no posted speed limits!
Select full screen and 1080p res...
https://www.youtube.com/watch?v=tOK1rV5O_Z4
https://www.youtube.com/watch?v=tOK1rV5O_Z4
So how did the Viper TA do? In a word…OUTSTANDING!!! The grip, balance, handling, braking, responsiveness, power, controls, seating position, and ergonomics are all perfect. The car does exactly what you want it to do, and it does it immediately. The car feels like an extension of your body, and controlling it is natural and effortless. The car is never a distraction to your attention to driving, and you're never compensating for something lacking in the car, like bracing to support your body in the seat for a hard corner. I use a 6 point harness, but even the stock belts hold and support you well in the seat. Here's a shot of the display for peak G-Forces. Tire grip is very good. I haven't been on a track yet with banked corners but 1.50g left, 1.50g right, and 1.42g under braking doesn't seem too shabby for streetable track tires. I'd be cuious what others are seeing, and under what conditions.
You must be registered for see images attach
It was hot at about 90 F (32 celcius) degrees with high humidity. I monitored engine temps and it ran remarkably cool. The video shows all the temps displayed on the center screen in celcius (Cdn spec car). It's common for high performance cars to have overheating and endurance issues on the track, and this event was no different. The owner of the highly track modified GT-R that I had diced it up with earlier boiled his power steering fluid after adding various auxillary coolers, ducting and upgrades to many systems and components. He feels that car is designed to handle only one or two hot laps for the all-important magazine tests. My friend had actually planned to take his new C7 to VIR instead of his GT-R, but a shake down day at a local track two weeks earlier exposed various issues that needed addressing before it could be tracked again. That is the case for many cars when driven at an advanced level, whereas the Viper is designed and tested by SRT for endurance on the race tracks... but you're certainly welcome to use them on the street as well! Most viper owners wouldn't be aware of this, and don't recognize the capabilities of the car or the extent of the challenge that the SRT Viper team undertook. They did it because they themselves are serious racers and track rats, they built the car to race, and I feel fortunate to enjoy the fruits of their labor and passion.
Several drivers were faster on the first day, and it was obvious that there were many very experienced local track rats in my group. But by Day 2 I had dropped a few seconds per lap, running among the faster cars, realizing that I've only begun to scratch the surface of the TA's performance limits. It could take a very long time for me to access them all. Hopefully years…and that's just the challenge I've been looking for! My next track days will likely include data-logging as a tool to identify opportunities for improvement, and I look forward to sharing that experience.
Thanks for reading, I hope to see some of you at the track, and as always, thanks to the Viper team for creating such an uncompromising, unapologetic, capable and engaging exotic supercar.
Bruce
2014 Black TA 23/33 new track toy
http://s49.photobucket.com/user/GT28...ary/Viper TA
, 1994 Supra TT long-term track toy sold, 1993 MR2 T longer-term track toy kept, 2010 XKR track toy traded for TA