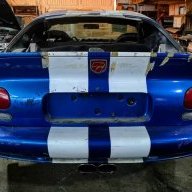 Joined

Dec 21, 2019
Posts

7
Reaction score

0
Location
Hello,
a couple of years ago bought this on an auction, imported to Europe and only recently started working on it. It is a 1997 GTS blue with white stripes and bought it with left rear suspension damage and broken rear glass, probably hit a curb as the wheel was shattered into pieces and frame damaged. Mileage 23K
It is non stock, has complete paxton/vortech supercharger kit installed apart from the charger itself, now its rerouted to work as N/A. Fuel rails, 2x Bosch 044 pumps, AEM ECU with AEM 10 channel injector controller, Earl`s black fuel lines from tank to rails, aeromotive fuel filter, oil catch can on the right side, aftermarket exhaust, from the sound I would say it also has an aftermarket cam. Also had chromed double spoke wheels, Alcon coilovers, interior is all stock apart from Alpine speakers and had amp wires going to the back, shifter with a viper logo on it, also had color matched top rear spoiler mounts with lower aluminum brackets underneath. So far I only have the name of the guy on the title which doesnt lead me anywhere. I believe that the internals are also non stock and would love to know at least some of its history and mod list or power it used to make.
It now has a new rear suspension, fixed frame damage, started and mapped engine with a new standalone ECU as the old AEM is way too old to work with, stock 17" wheels as a temporary solution and new BC coilovers. Going to repaint it in original color scheme as it has various imperfections on the paint, put the blower back on and some later model wheels in 18-19" just to make it easier with the rear tire changes.
Any help is appreciated!
You must be registered for see images attach
You must be registered for see images attach
You must be registered for see images attach
Last edited: