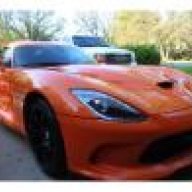 Joined

Jun 1, 2008
Posts

1,260
Reaction score

0
Location
I think you just tapped into it's primary problem, not having an automatic. Don't get me wrong, I love shifting, but lets look at some facts. >80% of vettes are automatics. Same for 911's and R8's. I had a friend of mine tell me two years ago a manual was both stupid and out of touch. I said explain and he pointed out a manual today is slower (less performance), more difficult to master for the masses, terrible in traffic, gets worss mileage, etc. He described it as rolling up windows, turning on your headlights or wipers, or playing with the heater in your car. Why would you want to do any of that now when you have electric windows, auto headlights/wipers/climate control. At the end of the day, his is right. His performance point was it was the equivalent on not wanting ABS brakes because you wanted to master braking without them, even though slower. Again, at the end of the day, he is correct. So, the last thing I would do is market the car around it being a manual. That target audience is tiny and shrinking every day.

Boost sales by offering what a large % of people want:
1) automatic (account for 80% of sold in segment)
2) conv (account for ~30-40% of sales; vettes and viper stats from the past)
3) ACR (account for 15%?)
I owned an 09 ZR and it only came with a manual. I think even the later model ZR1's only come with a manual.
My wife's SL550, I know it's not really a sports car, has paddle shifters. That's great and I've tried it; but if I was interested in straight line speed with her car it would be faster just leaving it in full auto, paddle shifters would be great on a track.
As far as the niceties such as electric windows, auto headlights, full climate control, etc., yes I like all that; but I will enjoy just driving a manual.
Having said all that do I believe they should offer two transmissions in the Viper? Yes, a six speed like they do + this one as an option: