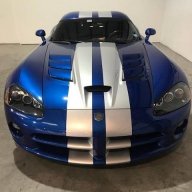 VCA Venom Member
Venom Member
Joined

Sep 16, 2014
Posts

188
Reaction score

81
https://youtu.be/B9dGMx6594g
It's been a few years in the planning but went from just a bucket list goal to reality on Feb 18th. It all started a few years back when I decided I was going to buy either a new Corvette, Cadillac XLR V or a Viper. The first one I went to look at was a red 2003 Viper over a Clearwater/St Pete FL dealer. I looked it over, took a test drive and went back and bought it the next day, never gave a second thought to the Vette or XLR V. Within days of that I set that 200 MPH goal in my head. I drove that Viper for 71,000 miles and decided the best opportunity I had for the 200 MPH was a Gen 4 so I traded the 03 for a Venom Red 08 convertible. I started prepping it for the 200 MPH run but it lasted only a few months and my son in law hit a wall that resulted in it being totaled. Next one was a 2010 Toxic Orange Pearl convertible, with tan top and interior. Don't anyone tell my son in law but this was the one I always wanted and he did me a favor. We pulled all the parts I added to the 08 off of it and started getting the Toxic Beast ready for some high speed runs. I added Autoform roll bar and hardtop, Simpson 6 point harnesses, fire extinguisher, Gen 5 intake, Ballenger headers, cat deletes, UD pulley, Wavetrax differential, 3.21 differential gears, 2 piece drilled and slotted rotors, BC Racing coilovers, and used HP Tuner to fine tune it. Then I started doing a few of the 1/2 mile events that Wannagofast puts on, just getting a feel for the car, launching it, driving etc. This gave me a chance to test the components that had been added. I did learn the hardtop would start to lift at about 150 MPH so we design a method to secure it for the higher speeds. I had done the math and I knew I would need at least 2 miles to get the car to 200 and that it would be borderline on making it, everything had to be perfect on the run and that meant I needed perfect launch and shifting had to be on spot.
Saturday morning at Kennedy Space Center arrives, it's a beautiful Florida day and finally time to see if the bolt ons were enough to make this stock NA motor break 200. We all head out to the shuttle runway, it's so inspiring to be on the same runway that so many shuttle missions returned to earth on. The scale of this place makes you feel overwhelmed but I'm here for reason and it's time to line up. We had done some shorter runs the day before, mostly just getting comfortable with the facility and the car. We have removed the wipers, the mirrors and taped the seams on the car, anything to squeeze another 1/10 of a MPH out of it. I get out all the safety gear and suit up, shoes, socks, fire suit, helmet, gloves and HANS device, wife insisted on all that. I slide into the car, get strapped down, everything is secure and I'm as ready as I'm going to be. I pull to the line and watch the flagman, flag drops and I'm off, car is way too sideways, tires spinning and it does that thru 3rd gear before it settles down. I head straight down center of runway, car is solid, and I don't really expect this run to be anything fantastic and I wind up running 191.742. All this did was put some more doubt in my head about this car being capable of 200. I return back to start, cool the car down and wait for another run after lunch. I line up again, this time I put a lot more effort into the launch. I slip the clutch some and roll into the throttle, this felt a lot better and by the time I'm the third the car feels great and I flatfoot shift from 3rd to 4th, at 160 MPH I shift to 5th and then it's just steer straight and wait for the 2 mile timing lights. I cross the line and glance down, speedometer reads 200 but we all know that means nothing. I turn left to return lane and I head back to start. As soon as the crowd comes into view I know I didn't make it. Oh well, if at first you don't succeed.............. I get out of car and Scottie comes up and says "you're not going to believe this, you ran 199.746 MPH". What do you say, besides lets go again!
This is it, last run of the day, it's time, now or never, go big or go home and all the other stuff that is running thru my head. At this point I know the car is capable of 200, the problem might be the driver. I crawl back in, strap down for the final chance and pull back up to the flagman. It seems to take forever but the flag drops and I launch.................and it's about as perfect as I have ever done. I hear/feel very little wheel spin, redline!....shift!......2nd gets a little more wheel spin, a little sideways, more so than 1st but it snaps back straight really quick, redline.......shift.......3rd now and it feels so right, another redline, another shift, the car is pulling so hard in 4th, it feels like a rocket going down that tarmac and in my head I'm thinking how appropriate that is considering where I'm at. Then time for that last shift, the awkward 5th gear shift, so easy to screw up........and I hit it perfect. Now it's all up to the car, all I have to do is steer straight to the 2 mile timing lights. I pushing the noisy petal so hard that the next day I have a bruise on the bottom of my foot. The cones come into view and I'm wishing the car faster, talking to it, I cross the marks and look down at the gauges, 201 MPH at 6250 RPM. Now I think that maybe I made it but again at these speeds speedometers are notoriously inaccurate. I turn left and head to the return lane, 2.5 miles back to the start and the answer. I'm doing 140 MPH on the return, guess you could say I was a little anxious. As soon as the crowd comes into view I know........except this time they had thumbs up, arms up and so on. I circle back to line, forget I'm strapped in as I try to get out of car. Scottie gets to the car, all smiles.........200.472 MPH!!!!!!!!!
I want to add that I didn't get there by myself, I had a lot of help, I got everything from encouragement, lots of advice, tons of help bolting on parts, and a lot more. Now I have plans for 210 MPH but don't let my wife hear about that. I also want to thank Johnny Bohmer for all the help/advice he gave me and for putting on an event unlike any other I've ever been to. If anyone is interested in doing this later in the year he has offered us some special pricing if we can get 40 cars to sign up. Just let me know and I will work on rate/dates. It would be nice to be all Vipers but not required, would be 2 days of high speed runs with professional video, helicopter and tons of pictures. There's no where else in the world like this and it's definitely worth it!