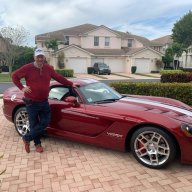 Joined

May 9, 2020
Posts

36
Reaction score

4
I have a 2008 SRT 10 with 16 K Miles. Before I bought the car it got a new clutch installed.
Now, I have a cliq/claq noise, when I pressed the clutch pedal down, shifted and released it again.
The noise appears shortly before I release the pedal when the clutch gets reengaged.
There is no noise when I go from coast to accelerate or vice versa. Thus, the noise does not come from the rear end. The clutch works fine as it should, just has that quite audible, metallic cliq or claq noise. Do you any idea what the reason for this noise could be?
I heard, they had problems installing the new clutch. I would appreciate any helping thoughts.
Kindly Johannes "Sennahnamrecken"