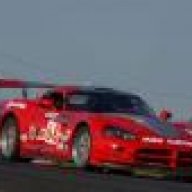 Joined

May 13, 2001
Posts

367
Reaction score

0
Location
I took possession of my new Comp Coupe at Willow Springs Raceway in CA. Yes, I'm the first person in the country to get their car. All I can say is "WOW." This car is MORE THAN A REASONABLE PERSON CAN HANDLE. You know how you felt back in 1996 getting out of whatever you were driving (at the time) and getting into a street Viper GTS for the first time? This is the same jump in performance (maybe more) if you had a <u>race prepared</u> GTS and then went to the Comp Coupe. The CC will blow your mind. I had to take it around the track extremely slowly at first because this snake could get away from you easily. By the end of the day I was getting the hang of it, but make no mistake about it, this is a pure race car with Viper speed. I had no car problems all day. (I did see a Corvette and a 360 Modena blow engines though...that was also fun). John Fernandez, Eric Peterson, and Tony Estes all flew in to support the car and make sure that the first one was flawless, which it was. I thought so much of the car that I ordered a second one which will be built sometime around the summer.

Friday was a test and tune day at the track and a bunch of Ferraris were there. The guys who have Ferrari Challenge series cars were dying. They loved the way the CC looked and it is half the price (and twice the performance) of the Prancing Horse.

Racing this car in the Viper Days is about as much fun as you can have (legally).....I highly recommend it. I'll post some pictures soon.

By the way, the brakes should be illegal. When you step on them they stop...that second. I have never experienced brakes like that in my life. I'm told they are exactly the same (except for softer pads) on the SRT.