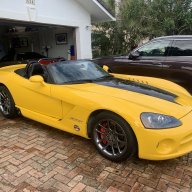 Joined

Apr 7, 2022
Posts

40
Reaction score

5
Location
Just finally had a day to install my Corsa mufflers. First sounds so much better and those tips look beautiful in those slots. Second what a PIA to install, those side sills definitely eat up a lot of time as stated on every thread about it. Loosening or removing the front rear fender liners definitely makes it easier so save yourself time on those two hard to reach 10's as with those liners out of the way you can get a socket on them. Old exhaust came off easier than I thought but takes a good amount of hammering. That stock exhaust is so over engineered it's pretty interesting how they did it but what a waste of money and weight plus massive cabin heater. Much cooler inside now which is quite important in S Florida.
Next up rear diff the old fluid looked ok and no metal, put Amsoil 75-140 and the Mopar assistive and wow the car drives much smoother and quieter now.
Oil, Mopar Viper filter and Mobil 1 0-40 that made her run much smoother and better oil pressure as the old oil was quite black.
Next up trans fluid going to use Amsoil synchromesh and power steering fluid.