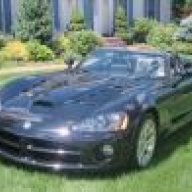 Joined

Feb 26, 2007
Posts

2,106
Reaction score

0
Location
I ordered my wifes blue convertible C7 Corvette about 2 months ago. Then I went back to order the C7 Z06 black on black for me......but just couldn't do it. The Gen V just looks like a work of Michealangelo going down the street like an artwork of mechanical sex, beauty, force and presence. Off the showroom floor the Gen 5 is easily the baddest ***** in the game from the looks perspective, but rather anemic in the performance area in drag race competition.
But the car is still ****ing awesome. There is already talk of major heat soak issues in the new Z06. But once you are a Viper guy everything else just seems rather childish and insignificant as far as sports cars go.
I want a car that's fast....I want a car thats faster than most.....and I want a car that's' fastest in my city. And the weird thing about the Gen V Vipers lack of stellar sales means the car is just that much more rare. My wife and I have actually NEVER seen a Gen V in person...and that's a good thing.
The Viper culture is unique in and of itself and the Dodge heritage is simply too strong...comprised of guys that are just hard hitters and go getters....a culture that doesn't apologize for their views and attacks everything they do with total belief and effort. That mindset is unique and totally absent in every other car club I have met. So leaving Viper is really leaving the Viper culture....which quite frankly I just find almost impossible to do. I can't imagine a group of in the Viper Club that I damn near disagree with more...but I also cannot imagine a group of guys that also are better men and better friends.
A stock Gen 5 is practicably a joke on public roads sports car-wise in a roll on or drag race...but a slightly tuned Gen 5 is a nightmare to damn near anything out there. I think I'm gonna have to stay home with Viper and just ride it out....the good times and the not so good times....its still a Viper. And Viper people are still Viper people. And thats a perfect marriage to a small group of folks who totally over perform their expectations in life/business and who drives a car that over-performs in damn near every arena.
The C7 Z06 is a really badass ride....but I think a slightly tuned Viper will leave the Z06 in the dust....so that means I need to come on back home. So I need to take a feather from Bob Pantax's hat and throw out reason and ignore facts....and just pick a side and go all in lol.
Ill be back guys...and I will be back with a Gen 5 Viper thats not only fast, it will probably be faster than yours, and will most likey be the fastest car you will ever get the chance to cruise with regularly lol.

I'm coming..........
https://www.youtube.com/watch?v=k-ImCpNqbJw