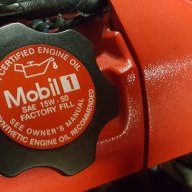 Joined

Feb 26, 2009
Posts

197
Reaction score

3
Location
I posted a question several weeks ago about oil leaking out of the front of the A/C compressor clutch and got sidetracked by a vacation and a weeping/leaking radiator (took the advice of Dave6666 and others from some old threads and went with pulling the stock radiator out and took it to a local shop for rebuild to a three-row unit instead of a new aluminum unit....thanks to all).

Auto air conditioning is confusing and intimidating as f*** to me, so I have a few more questions for you A/C experts.

My intent is to replace the A/C compressor myself with one of the "new" ~$230 Delphi OE replacement units you can find on Amazon or Rock Auto.

1. Should I take the car somewhere to have the system evacuated/vacuumed before I pull the compressor? Note - the system is still cooling and holding pressure.

2. If so, how long should a thorough vacuum of the system take? I've heard some say a few minutes and others say almost an hour.

3. Am I okay driving the car to the A/C shop for the recharge of the system with the new compressor I installed with no oil in the system? I know now the clutch won't engage with no Freon in the system, but I want to make sure I'm not going to ***** anything up.

4. Am I on the right track and/or missing anything?

Thanks!!