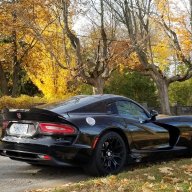 Joined

Mar 3, 2013
Posts

635
Reaction score

8
Location
Last week was a busy one with my 3rd and 4th lapping days, and I now have 4 weeks of ownership, and 2400 miles of combined road and track seat time. The Viper is likely as distracting to a new owner as it obviously is to many others who see it, and I discussed driving in distracted state of "Shock and Awe" in the last thread. What a difference a week made, distraction was replaced by familiarity, and a high level of car control on track has become much more natural and automatic…and as that happened my lap times dropped.
Track Attack #3 - Mosport 5-19-14
I arrived at the Kensai Racing Lapping Day at lunch to show a track buddy (Tommy G.) the new Viper TA for the first time, and let him drive it on public roads surrounding the track. He races in the Chump Series and had been instrumental in my choosing the TA model after discussing my needs with Ralph Gilles and Randy Pobst who also raced in the series. I ended up registering for the afternoon, and thought I'd do him a solid favor by letting him drive it on track! He was blown away with the car, and blown away by the improvement in my comfort level just between a 2 pm session with him as passenger, and the next at 4:45. It's all about seat time, and there's no short-cut around it. If much of your concentration is focused on the car than there's not as much focused on driving. The goal is to become "Unconsciously Competent", the level where your driving is performed automatically at an unconscious level where inputs are processed by the brain, and reactions performed, at a faster rate than what is possible at a conscious level. This higher level of performance would be sometimes described as being "in the zone".
Here's a short video of that last session with a warm-up lap, a new personal best 1:38 lap, and then the checkered flag thrown to end the day. Be sure to select full screen and high definition to view it (recorded in 1080P), and sorry about the distorted audio. It's hard to judge speed in videos, but for reference I'm doing just over 100 mph plunging down the infamous T2 as I clip the corner's second apex, and around 145 mph at the end of the up-hill straight.
https://www.youtube.com/watch?v=GXIQaunItmo
The car handles extremely well, and seems incredibly sure-footed everywhere except at the end of the straight when lifting off the throttle and easing into the brakes for the fast T8 sweeper. The rear feels a bit nervous for a moment, and you're not sure if you're about to have a "big moment" involving some corrective steering, but you never do. Randy had commented on this unnerving sensation, explained you have to trust the car that it won't get loose, and that's what I've found to this point. I'll have the alignment checked when it goes in for service just to rule that out.
I tried the damper's Race Mode setting for a couple of laps to see how that felt. It did feel like the damper rates became noticeably stiffer, and I suspect it will improve handling once I advance to the point that the street setting becomes too soft. I continue to use ESC Full On, and haven't sensed either traction control or stability control systems intervening. I also run factory tire pressures, and haven't heard or felt the tires lose grip, except through a persistently damp/wet patch on exit of the corner that leads onto the back straight.
Track Attack #4, Mont-Tremblant, Quebec 5-21-14
The next day I packed and left on a 7 hour drive to the spectacularly beautiful Laurentian Mountains, and the famed Le Circuit Mont-Tremblant. I've only driven this track twice over many years, with the last time being in the fall at the last private "Bob Rouleau Day". It's a fun day for the PCA Rensport region's club racers and DE instructor's. I was invited there through track friends in the fall and drove my 2010 XKR, which became target practice for 20 GT3's, and they must have enjoyed that so much that I got invited back. But this time I brought something much more competitive…the Viper TA!
I shot hours of video, but here's a short segment that's interesting as I chase a group that included a couple of 911 GT3RS, a Turbo, and a brief appearance and quick disappearance of a Ferrari 458. All of these cars were modified for serious racing, many came on trailers, and the Ferrari even had two drivers and a crew working non-stop on set-up between sessions. A track tire service installs the owner's slicks for those who choose to drive to the track. Slicks are good for about 4 seconds a lap on this track I was told. It's a bit intimidating running with this hard-core group, and watching your mirrors constantly is a must. I ran a respectable best 1:58 lap in this segment, over 100 mph through one corner that I was monitoring, and 145 mph on the straight when not held up. I'll be back for their next Bob Day in September, and I expect I'll be much more aggressive in the corners, and an even stronger advantage on the straights.
https://www.youtube.com/watch?v=cwwY2vUb2c0
(1080P)
Randy responded to a query about the rear feeling unsettled, which I again felt at the end of the back straight upon lift and brake, and he suggested I try the ESC's "Track Mode". I did, and thought it might have felt a bit better at the end of the straight on one lap. I wondered if the rears would break loose coming out of the esses or the hairpin leading onto the front straight but not a slip or slide at all. I really don't think I'm pushing hard enough yet to engage ESC at all, and could likely run with it turned off completely at this point. That makes one thing very clear…I've got a long ways to go before I reach the limits of this car.
I get the sense that the TA's fairly springs are well-matched to its stiffer sway bar. An overly stiff bar can become noticeable in the corners. The dampers are the surprise for me though, seeming particularly compliant in their Street Mode. This ties into what Venom V reported from his discussions with Ralph, Mark Trostle and Eric Heuschele in post 13 of
http://driveviper.com/forums/threads/3698-Track-Attack-2-…-and-1200-mile-impressions-of-the-Viper-TA
. I wonder if the slightly nervous rear sensation I feel is related to abrupt rear to front weight transfer at high speed with these damper rates, or possibly caused by the deflection of compliant suspension bushings matched to these dampers. The GT3 apparently experiences the same rear sensation under high-speed braking, and replacing the rubber bushings with solid bushings completely cures it, without affecting ride quality somehow. Either way I'm not too concerned with it now that I know the rear stays firmly glued, and since Randy was able to drive through it to a record lap maybe no one else will have an issue with it either.

I monitored tire temps and pressures at the end of the second session. I used the factory recommended cold pressures of 29 on all four corners, and saw the fronts increase to 36.5-37 psi. I have no idea what Pirelli recommends for a goal temp for maximum performance, but would like to find out. I also checked each tire's tread temperatures on the outer, middle and inner tread face and found them to be quite consistent, with expected variations caused by the track having more right turns than left. The fronts were predictably hotter caused by the demands of both steering and brake bias, measuring 127-150 F, and the wide and under-utilized rears were less, measuring 125-136 degrees. The rear temps will increase as I get more aggressive with the throttle on corner exit, and these temp and pressure measurements support my plan to do that.
My approach continues to drive well within my comfort level and be aggressive about adding the seat time that is shedding seconds each time out, rather than take a more aggressive driving style. I was feeling very comfortable with the car at the end of the day, but holding back though the blind apex corners. I'm looking forward to getting back to Mosport on June 14th with improved confidence and comfort with the car, and on a track I have much more experience with blasting into its blind corners. If I were to recommend a few things to those interested in tracking their Vipers, it would be to check your driver's ego at the gate, get some good instruction if you haven't already, and don't "try" harder and harder to drive fast…that comes naturally with seat time. It takes a lot of time and discipline to reach a high level of competence on the track, and where I've reached that in other cars, I'm taking the time to get it right in the Viper as well…the handling and limits of this car absolutely demand it if you ever hope to exploit them.
I met Louis-Philippe Montour when he came over to check out the car. He won the 2013 Viper Cup Challenge last year, and SRT is currently completing the build of the new Viper that he will be competing in this summer in the Pirelli World GT Challenge. I'm sorry I didn't think to ask him to join me for a session as he knows this track and Vipers very well. This is his home track, and SRT driver Kuno Wittmer has coached him since he was 14. All that coaching has certainly paid off, and I wish them both great success in their respective racing series.
I returned from this event with just over 2400 miles on it, and just love this car. It was very comfortable for the 7 hour drive each way, the exhaust does get louder above 70 mph, but a non-issue for 10 over the 50 and 60 mph limits we have in Canada. The car is very solid, driving position and controls are perfect, and the handling is just out of this world. I'm not sure if there are many unsold TA's available, but I cannot believe that there are any. This TA model, and the Gen V Viper in general, has to be one of the best kept automotive secrets of all time…and since I have one I am completely okay with that. But if you're on the fence about one you should do your due diligence and then pull the trigger if you want one while you can. You only live once, and this is a very good way to reward yourself for doing it well!
Bruce
Last edited: