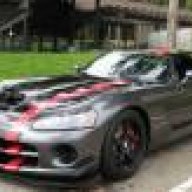 Former VCA National President
VCA Officer
Joined

May 1, 2004
Posts

3,471
Reaction score

1
All,
Lot's of rumors running around on "track time" at Circuit of the Americas so far, so here's where we are headed at far as tentative track plans for VOI 13 COTA. As usual, when planning events of this type, most everything depends on the number of attendes (number of instructors, etc.), so sign up for VOI 13 COTA today and we'll be able to firm things up more quickly.
First, for those of you that know me, I'm a track guy and have always found past VOI's lacking in "track time".
We
plan
to run this event more like a track event than any prior VOIs.
I STRONGLY recommend you bring your Viper if possible as COTA is not only one of the best, if not the best race track in the world, it is or should be a "bucket list" item for all Viper owners.
For more info, vist:
http://circuitoftheamericas.com/
Here are some tentative details for the driving portion of VOI 13 at COTA;
1 - We plan to have 3 "run groups", i.e.
Red
= Race or experienced;
Blue
= HPDE or intermediate 2 + track events a year minimum;
Green
= Novice with little or no track experience, driving a "loaner" car or poor tires, etc.
2 - We are working with a local track vendor who runs
track events
and hope to have between
35 and 50 in car instructors.
Yeah, our insurance requires us to have an instructor in every car for this event. I'm working on this subject, but it's very likely that for Friday and Saturday, you will have an instructor in your passenger seat. Also, there will be driver's meetings with specific track info before anyone goes on track. FYI, you will be allowed to run much faster in the Red and Blue groups, unless you demonstrate that you should not be in either of these groups and
no, it won't be lead / follow or parade laps in these groups as some may have already told you.
3 -
So far, it looks like each run group will get about 3 sessions on the track for about 45 - 55 minutes of track time
on their track day
if we can avoid incidents
, like fluid leaks, flat tires, off track excursions "aka four wheeling", etc. Make sure your car is prepared and will pass tech inspections, yes, tech. Bald or old tires = automatic Green group, loaner car = automatic green group.
4 - I have been told that track is large enough to safely handle up to 85 cars at one time. We plan to have 30 to 40 cars on track at one time or less than 1/2 of it's capacity. These numbers represent our best guess at this time and may be lower or slightly higher depending upon the number of attendees who wish to drive COTA. The track will be very wide open.
So, how are we doing this?
In past years, we always went out one at a time and never maximized our track use. At COTA, we'll go out in run groups this time as above. This will allow many of our attendees to run together with other Viper friends of similar driving skill from their various areas of the country. I always enjoyed this and think you will too.
Our day at the drags will be Thursday
, 1/2 early, 1/2 later but you will get plenty of runs on the drag strip, again if we avoid fluid spills or off track excursions.
In the past, we allowed 2 hours for the drags, 2 hours for each Auto Cross (total of 4) and 2 hours for the track.
On Friday and Saturday, we will be running only the 2 Auto Cross courses (2 hours each) and the track, so we'll have 4 hours of track time dedicated to each group, each day, more than double past events.
Please show up with good tires and all fluids recently changed. There will be service provided at the track by a few local vendors, but nobody wants a mechanical issue at a time like this. If you need help with new tires or parts for your Viper, call Keith, our new GM at VPA, at 888-9-VIPERS. Keith is a 20 year Viper tech and knows Vipers very well.
Now,
while we haven't really solidified the details yet, (this event is 5 months away) for those of us who really want to run harder at COTA, we are working on setting up a special optional track day for Sunday at COTA with a local track vendor.
Sunday's track event will be an extra charge (to the VCA VOI event) event with limited space, but unlike anything we've every had at a prior VOI, it will be a full blown track event, likely 4 run groups, likely 4, 25 minute sessions per group, no instruction necessary for anyone, run as hard and fast as you can, safely please as off track stuff can be very costly at COTA, lots of walls, etc. Pricing will depend upon the number of attendees, so the more Viper guys we can get to sign up, the lower the cost per Viper, up to the limit of course.

Please post here and let Angela know at VCA if you are interested; call 800 - 677-4321. We'll put you on the list for this special, optional Sunday track day in the order that we receive your request. VCA members attending VOI get first option, other VOI attendees will get second option, etc. There will likely be only 100 spots total available for this Sunday open track event, so don't wait to get signed up for VOI or get on the list for this Sunday event. If we don't get enough interest from VCA members and fellow Viper owners attending VOI 13 COTA, we will open it up to the public. It is always fun to pass guys in other makes .....
Sorry for the long post but thought you'd want to know.
Dan
Last edited: