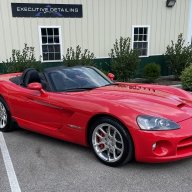 Joined

Aug 10, 2023
Posts

19
Reaction score

3
Location
For anyone with a mostly stock Viper with the 3.07 ring & pinion that is considering the 3.55... do it! It will wake up your car making it much more fun to drive. Will it make the car any faster zero to 60 or in the 1/4 mile, probably not but the seat of the pants feel on the street is awesome. It tightens up the ratios between shifts too. And 70 miles an hour in 6th gear only turns 1500 RPM so I might actually use 6th gear more often. Another plus is my speedometer was not effected like it is on many other ring and pinion swaps.

They say MPG will take a little hit but let's face it, if that was our concern we would be driving a Prius. And no matter how much I put my foot in it, it's still cheaper than feeding avgas to any general aviation airplane. I'm still working on the initial break-in of the gears but the few times I have put my foot in it have been remarkable.

Tip: Pick a tech that specializes in differentials. The tech that did mine has specialized in differentials for over 40 years and he has done 1500+ differentials in his career. It takes special tools and expertise to get it right so don't let a couple hundred bucks be the difference between a job done right and a disaster. I took my car in on a Friday afternoon and he had it done the following Monday afternoon so there is no reason to make it a drawn-out winter project. Yes it was a little more pricy than the prices floating around here but I am confident it was done right and it's as quiet as a mouse with no whine or noise of any kind. As you probably know, the later cars came from the factory with the 3.55 so it is definitely a step in the right direction.

BTW, I have a factory 3.07 set of gears in perfect condition with 23,000 miles for sale if anyone needs one.
Last edited: