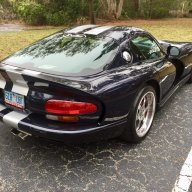 Joined

Jan 20, 2003
Posts

649
Reaction score

6
Location
HELLO ALL,
OUR FIRST MEETING OF THE YEAR WILL BE AT THE JAN. 28

[SUP]

TH

[/SUP]

MECUM CLASSIC CAR AUCTION IN KISSIMMEE FLORIDA, AND NATHAN WAS ABLE TO GET US A GREAT DEAL FROM MECUM, $10 RATHER THAN $15 FOR A ONE DAY TICKET, OR $45 RATHER THAN $90 FOR THE ENTIRE WEEK. PLEASE SEE PRICING EMAIL BELOW. THIS LOOKS TO BE ONE OF THE BIGGEST CLASSIC CAR AUCTIONS EVER, THEY HAVE OVER 2000 CARS AND NOW THE AUCTION RUNS TUESDAY TO SUNDAY TO ACCOMMODATE ALL THE CARS. CLEARLY LOOKS LIKE IT WILL BE A BUYER'S MARKET. THERE IS NO DISCOUNT IF YOU WANT TO REGISTER TO BID.
SATURDAY JAN. 28TH
0800 HRS GROUP UP THE VIPERS AT THE IHOP CLOSE TO THE AUCTION, EXIT #244 OFF THE TURNPIKE
0900 HRS DEPART THE IHOP FOR AUCTION
0920 HRS ENTER THE AUCTION WHERE WE WILL HAVE SEPARATE "VIPER ONLY" PARKING, WE HAVE TO ENTER AS A GROUP
1000 HRS AND ON: ENJOY THE AUCTION AND MAYBE SOME OF US GET INTO THE ACTION (Lee S & David M.) AND BID ON SOME CARS
1600 HRS FOR THOSE THAT WANT TO, DEPART FOR DAYTONA AND GO TO THE ROLEX 24, EAT DINNER IN THE STANDS
1800 HRS FOR THOSE THAT STAYED AT THE AUCTION HEAD OUT FOR DINNER
IHOP
2095 East Irol Bronson Memorial Highway, Kissimmee Florida (407) 944-3355
MECUM AUCTION

:

Kissimmee, FL Auction

Mecum Muscle Cars & More LIVE on Discovery's Velocity Network

January 24-29, 2012

Osceola Heritage Park
1875 Silver Spur Lane

Kissimmee, FL
·
·
MECUM PRICING EMAIL:
·
Hi Nathan:
·
I was finally able to have a chat with Harold, our general manager, about your club coming to our Kissimmee auction. First of all let me tell you, we really appreciate the interest your club has in attending the auction and I'm sure it will be a great time for all.
·
The tickets are $15 per day per person if you buy single day admission. But because you would be all coming together and we want to encourage you to make this a club experience, the charge would be $10 per person for a single day admission.
·
We also have a multiple day ticket for $90 (good for all 6 days or however many days they choose) which we would offer at half price ($45.00).
·
To make it convenient for us and for the club we would like you to arrive all together and we will hold the parking spaces
·
in one section together. We would have you enter in a parade fashion and keep other cars from intermingling. The Osceola Heritage Park handles the parking but if we know the date(s) and time they are very willing to work with us.
·
If you could provide the date, time and final number of vehicles I will work with Harold to get you all set. Listed below is my cell number and you could contact when you arrive at Osceola Heritage Park. Would you like to pre-purchase the tickets or purchase them on site?
·
I look forward to hearing back from you and making this a fun club event.
·
·
Cathy Storm
·
Mecum Auctions
·
Travel Coordinator
·
262-275-5050 Office
·
262-275-3424 Fax
·
815-979-5034 Cell
·
[email protected]
YOU CAN REGISTER THE DAY OF THE EVENT IF YOU WANT TO BID ON CARS (Saunders & Mazyck) OR YOU CAN PRE-REGISTER ONLINE. IF YOU WANT TO SELL A CAR, I BELIEVE YOU NEED TO PRE-REGISTER.
http://www.mecum.com/index.cfm
PLEASE RSVP
SO I CAN GIVE MECUM A HEAD COUNT.
SINCERELY,
JOHN