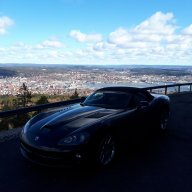 Joined

Jun 7, 2021
Posts

17
Reaction score

8
Location
One year has passed since I bought my 2005 with 31500 miles on the clock. My childhood dream car was finally in my garage.
I had never sat in a Viper, nor driven one and I bought it unseen.
The car had some small faults that I was informed of before my purchase. The HVAC motor only runs on max setting, the headlamps were a bit foggy and the tires where old.
This winter I undertook the task of giving the car some needed love and care. Aswell as doing some modifications.
Maintenance and DIY:
Fix the HVAC motor resistor
Fix two broken mounting holes in the driver side door panel
Polish the headlamps
Making some DIY window wipers
Lower shift boot
Clean all control arms and suspension
Stabilizer bar end links
Transmission mount
Filming inside the differential to find out if I have a gen3 or gen4 diff.
Radiator hoses
Coolant flush and new coolant
Oil lines
Power steering lines
Multibelt
Belt tensioner pulley
Exhaust mounts
Engine oil and filter
Transmission oil
Differential oil
Brake fluid
Paint the holes in the chassis where the exhaust exit through
Grease all control arm joints
New tires
New battery
Cost: ~2363 $
Modifications:
Belanger high flow cats
Installing skip shift eliminator
Lowering the gearstick 1 inch
Lowering the seats 2 inches
Mounting the stock roll bar hoops
Drill access holes for the front bolt on the rocker panels
Tighten up the steering rack adjuster
Cost: ~3187 $
Total cost: ~5550 $
You must be registered for see images attach
The car with the city Sundsvall in the background
You must be registered for see images attach
HVAC motor resistor with broken connection that I soldered back in place
You must be registered for see images attach
Broken side panel mounting holes
You must be registered for see images attach
DIY steel washers that I epoxied to the panel to give the mounting screws some new support
You must be registered for see images attach
Headlamps after polishing on top and before under
Last edited: