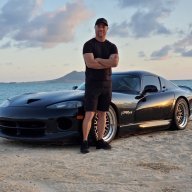 Joined

Apr 1, 2020
Posts

13
Reaction score

5
Location
Aloha all from Oahu, Hawaii.
I have only seen one viper for sale on the islands in roughly a decade of watching the classifieds and the timing/pricing was wrong for scooping that one up.
A couple of days ago I pulled the trigger on a Gen 2 GTS in San Diego. It's pretty much a done deal and gets inspected today to verify that it is what it is before payment is made and shipping gets paid for.
I am hung up on one thing though. It has 18X11 front and 18X13 rear CCW Classic Race wheels, and I'm concerned about being able to source suitable tires for this car in Hawaii in the future for daily driver duty in frequently wet conditions. Current tires are 315/30R18s and 335/30R18 Toyo R888r. I get the impression that there won't be a problem sourcing more R888r's in the future in these sizes.
However I live on the wet side of Oahu where it rains. Every damn day. Repeatedly. There's also often mud and dirt on the parts of my daily commute. I've never owned a car with Toyo R888r's and from what I've seen, heard, and read about them, they would be lousy tires for my commuting situation especially on a car like the Viper.
If my impressions are correct, then I should just order bigger wheels to give me access to more tire options right? Well, I'm a middle school teacher with a teaching salary in an expensive state. Odd sized tires and wheels are difficult, and cost prohibitive to ship to Hawaii. I'm thinking it would be wise to cast a wide net to see if there might be a deal on bigger wheels in the San Diego area that I can have mounted before it gets shipped over here. And thus this post.
Thoughts? Any deals?
In case nothing ideal turns up what might be some good tires to check out if I can't source bigger wheels? I didn't seem to find any good options in my research yesterday. Next window for dropping off the car to be shipped is April 2-8, then 16-22 and the seller would need about 4-5 days to order new tires and have them mounted if the wheels don't have suitable tires on them already.
-Wicked
P.S. Slight exaggeration of what the roads look like on part of my daily commute on the wet side. I have about 1' more of shoulder space. There's also often standing water in spots and occasionally water running across the road.
You must be registered for see images attach