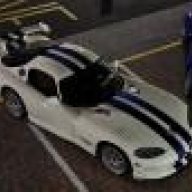 VCA Venom Member
Venom Member
Joined

Feb 26, 2002
Posts

5,315
Reaction score

71
Location
Hey everyone, long time no see!
I know this isn't viper related but I thought I would just fill in my local
friends as to why I haven't been seen much here lately. As previously
posted, last May I became suddenly, very unexpectedly, very unemployed.
In a mad dash to stabilize my home life I had to make a lot of changes -
one of which was to take a job that works 65-75hrs a week. Monday
through Friday you will no longer be able to get hold of me - sorry!
On the bright side something pretty amazing happened to me (or at least I
think so) that involved two of my favorite cars... Let me start at the
beginning - (just a heads up, it gets even more boring from here...)
Back when I first started driving I saved up to buy a family members
minivan (a Voyager) as my first car. The plan was to soon trade it for
another family members 1987 Jeep Comanche.
[Old Blu - 1993ish]
You must be registered for see images attach
The powers-that-be at the time decided however that a pickup just "wasn't
right for me" and later the decision was made to "upgrade" me to a Civic
Hatch. No complaints however, I had some wild fun in the mini and the
hatch. Fast forward to Christmas 1998. After years of limiting myself to a
single automobile, I was driving past a local dodge dealership (now defunct
Wrights Chrysler in Seaford DE) when I caught glimpse of an old Comanche
sitting out in the back lot awaiting auction. I stopped in, spoke to the
manager, and after a bit of haggling drove home with my very own
Comanche. Her factory colour was "Dove Gray Metallic" so I decided to
refer to her as my 'Old Grey" which eventually became 'The GreyC' and
finally 'Gracie.' Its become a tradition now to name all my jeeps after their
colour: (Gracie, Raven, Carmine, Scarlet, Sapphire, Blu, Indigo, Isabella,
Lacy, Snow, Storm, Kali, Cloud, Skye, and Olive... not that I remember
off-hand or anything...) Gracie became my go-to work and off-road rig and
I was slowly building her up to be a proper weather-chase vehicle (back
before chasing became fashionable.)
[Gracie - 2002ish]
You must be registered for see images attach
In 2001 I came across another Comanche for sale on the side of the road.
It was a rare low mile Eliminator edition with a VERY appealing asking
price. A quick stop at the bank and there was another Comanche in my
stable.
[Scarlet - 2002ish]
You must be registered for see images attach
I used Scarlet as my commuter for my traveling job and put ALOT of miles
on her in a very short period. Her main job was to keep miles off Gracie
and serve as a fuel-saver when my contracts didn't require the Yukon. One
of the main memories I have with her is that she was the truck I was
driving in DC on 9/11. The drive home was one of the most surreal
moments of my life - I do not have the words to describe the mood in DC
or the quiet emptieness of I495/Rt50.
Overnight all my contracts dried up and I basically became unemployed. I
sold off all my toys and re-organized my household, got married, and
moved into a new house. During that time I was forced to sell both Scarlet
and Gracie - while Scarlet was off to a seemingly good home, letting Gracie
go was about as heartbreaking as you could imagine... I immediately
regretted the decision, but the dealership I traded her in at had her sold off
the very next day.
Time passed - I searched for my sweetheart everywhere, even going as far as
to submit owner requests to the DMV and hire a Private investigator to try to
locate her. Carfax kept coming back that she was still being tagged, but,
despite Delaware being as small as it is, no one could find her. Then in
2010 Carfax reported her in an accident and no more titles were reissued. I
assumed the worst...
----
On March 9th 2014 everything changed. I had known for a couple of years
that Scarlet eventually ended up as a lot truck for a local auction house. I
also knew that the owner hadn't sold ANY of his vehicles in almost 25
years - not one. He just piled them up out back and let nature take its
course. Well on this particular day I had noticed that Scarlet had been
moved to the dreaded cemetery out back so, like hundreds before me, I
stopped into see if I could buy her freedom. Turned out the man had sold
the truck to his brother (for whatever reason) who seemed to prefer hard
cash over rusty pickups (obviously not a jeep lover.) Another quick trip to
the bank and Scarlet was coming back home:
[Scarlet - March '14]
You must be registered for see images attach
Then, against all odds it happened again. On Sept 4th I get a call from a
man in Elkton MD with a Comanche for sale... my Comanche... THE
Comanche. And with HUGE buyers premium two weeks later Gracie was
also home:
[Gracie - September '14]
You must be registered for see images attach
So here I am now, the whole famn damily reunited. Both trucks will need
major repairs and restoration work, but unlike before it doesn't worry me
now. I couldn't do my own oil changes back then, but now even if I can't fix
it, I know plenty of people who can show me how. I plan to turn Scarlet
into the proper road machine she should have always been (stroker motor,
nice paint, tuned everything) and Gracie will become the cross-country 4x4
I always wanted her to be. My time is currently being spent getting them
road worthy - and its going to take a lot. The viper has the garage all to
herself now so in a couple of weeks she too will be back in the game.
Things are looking up for the holiday for a change.
[The Sisters - September '14]
You must be registered for see images attach
I realize as you finish reading all of this that it all seems a bit hokey... hell,
maybe it is. But I am serious when I say that as the years pass on from
here my hope that Mistress and Gracie will be with me to the end - they
are the two that matter.