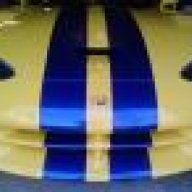 VCA Venom Member
Venom Member
Joined

Oct 2, 2000
Posts

8,481
Reaction score

146
Location

OK Viper Owners, here is THE FINAL ANSWER concerning our LONG discussion of the "factory fill" and "service fluid" used in the Gen V Viper differentials. I cannot and will not post the sources of the info contained here...BUT, merely express my personal thanks and appreciation to the kind, interested, "high level professionals" who provided this communication. Thanks are also owed to "lochnessmonster" for calling our collective attention to this situation. You can see this initial discussion in this link: http://driveviper.com/forums/threads/9410-Differential-fluid-change-and-the-addition-of-friction-modifier





"The Viper rear axle lube used from 1992 – 2010 (with Dana Trac-Lok and Hydra-Lok differentials) was the corporate 'standard' MS-8985 synthetic 75W-140… this was the same generic 75W-140 used in many other Chrysler products. For the Viper, the MS-10111 limited slip additive was also required. Viper fill volume to the bottom of the fill plug is about 48 oz. The factory fill at Dana was pre-blended with friction modifier at 5% by volume. For Service, the 75W-140 and the friction modifier are sold separately and the dealer/customer need to do the mix. The correct friction modifier amount for the Viper axle fill based on the 5% blend is about 2.4 oz. Unfortunately the stuff comes in a 4 oz. bottle I believe, so somewhere along the line, it became popular to put in a full bottle. A little more or less does not cause problems, but the correct amount has always been 5% by volume. Because it was a generic synthetic 75W-140, the MS-8985 fluid came from a variety of fluid suppliers including Shell, Texaco, etc.


Over time and miles, the friction modifier tends to 'burn off' and become less effective, causing some chatter when turning or other NVH issues. Usually, a fresh fluid/friction modifier change is sufficient to get things back to normal. The NVH issue became more apparent with the introduction of the Viper GKN Visco Lok differential in 2008. For 2008 – 2010, we lived with the standard 75W-140 fluid because it met all of our durability requirements and was less expensive than other lube alternatives. But we did have more of a friction modifier 'loss of effectiveness' issue with the Visco Lok as we got more experience with the new differential. We learned that on some cars, the Visco Lok would tend to make a howl/growl/grind noise when turning at low speed if the friction modifier was used up. So for 2013, we went with the special Castrol SAF-XJ 75W-140 synthetic developed by Castrol and GKN for the Visco Lok. This fluid has a different friction modifier and blend % already mixed for factory fill and Service. No added friction modifier is necessary. It is also recommended that the Castrol SAF-XJ be used for Service of 2008 – 2010 Vipers with the Visco Lok. I do not know if Castrol sells this product under their brand name, but I do know that it is available in a special 'SRT' bottle from Mopar. "


​

NOTE #1: "NVH" as used above in the second paragraph stands for "Noise, Vibration, and Harshness"...standard driveline issues.


NOTE #2: "Castrol SAF-XJ/SAE 75W-140 Synthetic Gear and Axle Lubricant" as listed in the Gen V Owners Manual has been renamed "Castrol Syntrax Limited Slip 75W-140".



The MOPAR part number for this fluid is 68197927AA and, YOU can purchase this at your local Chrysler-Jeep-Dodge-Ram dealership, though they may not have it in stock.



Thanks, again, to All who helped with this issue !!