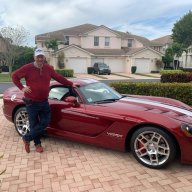 Joined

May 9, 2020
Posts

38
Reaction score

5
I have a 2008 SRT 10 and ran low on fuel. The light just came on. I took gas at the first Station 4 Gal. moved 10 Miles on to the better gas station and took another 14 Gal. This amounts to 18 Gal. in my 16 Gal. tank with 10 Miles driven. Even if I ended up at the 1. gas station on fumes it still does not add up, since I did not use 2 Gal. for 10 Miles. Anybody has an idea?

Another Problem: The same day after refueling, the electronic throttle control light came on. Admitting my ignorance, I crawled home to take a look at the owner's manual. There it was, I just had to shut the car down and restart it, which I did at home. The car works fine, but the check engine light stays on, since I had an incident, I guess. Since I am in the boonies, Miles away from the next Viper service, is there a way, I can get rid of the "check engine" light myself without going to the next service station some 120 Miles away?
I shipped my car from FL for the summer to Up-State NY which is Viper waste land.
Any comments without referring to my stupidity would be appreciated.