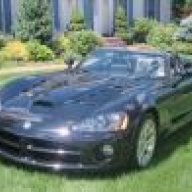 Joined

Feb 26, 2007
Posts

2,106
Reaction score

0
Location
But now its time for the Viper.....
https://www.youtube.com/watch?v=g3ENX3aHlqU
and this brings up a cornucopia of feelings....
the engine, the vibrations, the roar, the rawness, the predatory nature, the beast, the brawn, the bully, the baddest ass car ever, the buddies, the dyno tests in 120 degree shops, the friends, the feeling......the feeling of one-ness with a 645 hp rabid enraged unloosed animal...and the ability to drive, control, and coexist with an animal like that....
is unfortunately why we must now say goodbye to our beloved beast. Dodge knows it, Woodhouse knows it, and deep down...even Panoff knows it.
Whats the alternative? An automatic driven electric hybrid making 1000 hp but has the exhaust note of a Suzuki RM-80?
The Dodge Viper will be discontinued after 2017.
The Viper is kinda like the Republican Party. Determined to ignore "advances" and the inability to adapt to the modern world.
Instead of being inclusive the Republican demonized and alienated the Latino vote. And the Republicans launched an aggressive assault on voters rights after double loss to President Obama. The Republicans refused to adopt and adjust to modern changes.
Just like the Dodge Viper. The latest McLauren 650s I think with rather equal horsepower made mincemeat out of a tuned Viper on Youtube....I mean it was bad...really bad. Then you have Nissan, Porsche, Ferrari....and others killing the Viper in 1/4 mile to half mile runs...with less horsepower....and thats just the way it is.
Or is it? Maybe there is something to just not focusing on 1/4 mile times that a computer basically generates for you. Maybe it is about being unique, principled, loyal, stubborn and steadfast. Maybe those kind of qualities, while rare, are what really matter.
And maybe that is also the case with the Republican Party. Maybe its not a good idea to let illegals simply come thru our border at will with no repercussions, and maybe we should have a proven businessman who has shown he can create billions of personal net worth in the white house instead of smooth talkers that are only good at appeasing both sides. And maybe if blacks would focus on and march and protest about inner city drug and gang murders of blacks as much as we do on police murdering blacks.....maybe they would be taken more seriously.....
But...the chances of any or all of the above seems very unlikely in todays climate. So....lets all prepare for our dearly loved Viper departing...along with many if not most of the ideals that made this country great.
Look on the bright side...at least our Vipers will double in value.....and at least...we'll have each other.
https://www.youtube.com/watch?v=g3ENX3aHlqU
Last edited: