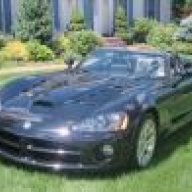 Joined

Feb 26, 2007
Posts

2,106
Reaction score

0
Location
I love the Gen 5 SRT Viper. I love the less weight, I love the 6 air-breathing gills in the hood. I love the high quality interior thats functional and holds you in place while you're kicking *** and taking names. I LOVE the fact that my wife hates riding in the Viper for long trips. I LOVE that fact that timid drivers are afraid to drive or own a Viper.
But I cant STAND the GTS Viper. I'm sorry, I simply cant stand it. I know its politically incorrect to say this...but there is nothing that makes me want to puke more than a blue GTS "Viper" with that plain *** hood and a peanut butter colored leather interior with pretty multicolored stitching and high quality cup holders and push button this to see how many coffee shops are nearby on your big screen that hooks you up to your financial planner while playing Mozart thru some super sophisticated Harmon Kardon stereo system with 72 speakers for 3-D surround sound and seat vibrators and an ipod connector underneath your blue tooth button next to your go-to-meeting screen besides your nanny this and nanny that. Instead of making a suspension that squats to help get superior 1/4 mile times for bragging rights like the ZR1, we got pretty stitching and cruise control. I'm sorry , I just cant continue to be silent on this. A civilized snake is an oxymoron...who in the **** respects a snake you can domesticate? The only sports car with all that **** on the inside that would be feared and respected MUST have at least 750 rwhp from the factory or have awd like the Lambo Aventador. Otherwise...lets just all make different versions of Aston Martins.
Give me a black Gen 5 SRT Viper with the mean 6 vent hood and the track package. THATS A VIPER. The day our wives dont ***** about going on a 3 hour cruise in our Vipers and the day people trade in their Audi R8's for a Viper is the day we've all been castrated along with our brand. The very first time I see a $165k GTS Viper at a traffic light with all that **** in it I am gonna line it up in my sites and pull up next to him.....
And show him why there are two versions of Vipers being made...those for the real Viper guys...and those for everyone else. And once that traffic light turns green.....he will be made to understand why.

I know everyone is singing kumbaya for our new beloved Viper...but this just had to be said.