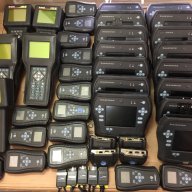 Joined

Mar 18, 2016
Posts

34
Reaction score

0
Location
https://www.amazon.com/dp/B07D21GG6J/
I thought it was made by OTC and was later bought out by bosch who was providing repairs service for them up until a couple years ago.
The switchbox for the sensors just handles cycling between the two sensors or selecting a single one. If you look back on the first page when I replied about the screen, it says it uses a 16 MHz Motorola 68332 which is a Motorola 68000-based CPU core.I don't believe the SC designation is of any consequence; the core architecture is still part of the same family. PEP is an abbreviation for "peripheral expansion port" and it was intended to host multiple different modules, though only one was ever made to fit there, so it will very likely be a generic protocol. It would have been way more difficult to develop and maintain a proprietary protocol. The PEP module itself accommodates many different attachments, so again, it will likely be some standard protocol.
I strongly suspect those sensors are just a rebranded off the shelf inclinometer. There was no reason they would have tried to develop their own when it had such a limited application to their vehicle line. The best route to pursue would be hunting down the manuals for existing similar sensors on the market, that explain how to add them to a system and communicate with them, and try to use the same commands to initiate the Viper inclinometer. Otherwise you will need to get a logic probe/analyzer and record the traffic from the DRB 3 to the sensor.
Going that route, you'll need a logic analyzer, an actual DRB 3, the switch box with sensors and the knowledge on how to interpret the data you collect.
There is no sense in jumping off the deep end by trying to dig that far into the DRB 3 when all signs point to a standard communications protocol being used to drive a rebranded off the shelf inclinometer. (SPI I2C UART RS-232)
I did receive that single senor I ordered but haven't had the time to look into it more. I had a bunch of equipment become available so I've been working my **** off to sell some stuff to keep my head above water with the new stuff coming in; had 15 used micropod 2's come in just this week. The holidays had me a bit busy as well. I might get some more time later to assist you but you are the only one with any relevant knowledge or experience in this area. I am also not in a position to buy additional hardware like a logic analyzer for investigating this.
Last edited: