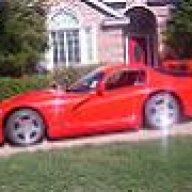 Joined

Jan 23, 2002
Posts

2,444
Reaction score

0
Location
<BLOCKQUOTE><font size="1" face="Verdana, Arial">quote:</font><HR>Originally posted by getbit:
Originally posted by Gerald:
Jesus, what is with your rant? I never said the things that HMS is accused of is true or not. I am only objectively posting on a thread that asked for info from HMS VENOM OWNERS! That would be me. No offense buddy, but it seems that you and the HMS police feel as if Venom owners have no right to post here either. I, unlike yourself, don't feel the need to hop up on
the soap box everytime HMS is uttered around here. Once again for the slow: the thread, if you can read the title, asked for HMS owners responses so I responded. Please show some respect to those who are sharing our experience with our cars with others the chance to be proud of what we own without you naysaying. I believe the reitteration of John's rap sheet is
uncalled for. Enzo is obviously fully aware of the accusations
against HMS (as stated in the beginning of this thread). If you take the time to READ my post, you will understand that it is unbiased and true. The only opinions I stated were pointed out clearly to be opinions - not disguised to be fact.

THIS IS MY EXPERIENCE! Not yours or anyone elses.

Start a new thread about YOUR bad experience if you would like.
Let's just stick to the topic at hand.

If you have a problem with my posts, please feel free to email me and I'll give you my phone number to set your mind at ease as to my position on the HMS scandal.

thanks


<HR></BLOCKQUOTE>
Gerald,
I second these comments from getbit. What is your problem? Did you personally have experience with HMS? I thought you had DLM upgrades. The original post did not ask for information about DLM. Are you that insecure about your DLM upgrades beyond the dyno performance that you have to continually bad mouth HMS and legitimate HMS Venom owners? Go tighten your SC belts and give us a break.