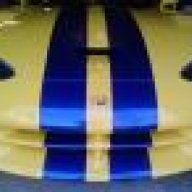 VCA Venom Member
Venom Member
Joined

Oct 2, 2000
Posts

8,481
Reaction score

146
Location
IN/KY Vipers...SPECIAL VIPER SERVICE SESSION #11 with Tom Sessions IS A GO!!! The dates are October 2nd through 7th, 2017 at Indy's Champion C-J-D-R.

Hello, again:

To have YOUR Viper ready for this SPECIAL SESSION, please call Viper Service Advisor Keisha Tranbarger at Champion to schedule a DROP-OFF time for your car. She can be reached at 317-872-6200 and ask for "Keisha Tranbarger in Service". You can also call/text Keisha directly at 317-989-4691. Please follow up your call with a brief email to Keisha describing your Viper's UPDATED service/repair/warranty/recall needs (YES, she already has an preliminary list of your stated needs). Keisha's email address is
[email protected]

Be prepared to give Keisha your VIN in order to order any special parts, fluids, and/or Recall Kits since dealers do not routinely stock Viper parts. Consultation and preordering are absolutely necessary...especially since many parts are no longer available from Dodge or Mopar.

Due to the tight time schedule and the complexities of some types of service, we suggest that the DROP-OFFS begin FRIDAY, September 29, 2017. As usual, your Viper will be kept inside the Service Department. DROP-OFFS can also be done on Saturday, September 30th and Monday October 2, 2017.

If you want to cover your Viper while it is awaiting service, please feel free to bring your cover and apply it after you check-in (which will allow it to cool somewhat). Since these cars ALWAYS pick up dust in the service area, your cover WILL NOT be placed back on the Viper following service in order to avoid possibly marring the paint.

MEMBERS: Tell Keisha of your membership in order to receive a discount on parts and fluids.

ALL Viper Owners are WELCOME !!

Questions??....CALL ME ASAP !!!
Steve Fess, 317-402-9013

​
Last edited by a moderator: