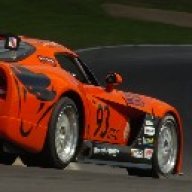 Joined

Oct 2, 2000
Posts

3,029
Reaction score

5
Location
In light of recent events and some terrible tragedies involving new owners of the Dodge Viper - the members of the VCA Forums wish to provide the following insight into the Viper ownership experience - all in hopes of preventing accidents.
Much of the Viper's appeal is it's "raw" attitude. It has few creature comforts and even fewer high tech driver aids.
It's a wonderfully capable tool - much like a scalpel in the hands of a surgeon. However, a scalpel in the hands of a 2 year old is not a good thing. You - as a new Viper owner - are likely more of a 2 year old than a surgeon. Don't feel bad - we were all 2 once.
Many of us grew up driving cars that could were virtually idiot proof. This is not one of these cars.
Please understand the following things about the Viper:
It has more torque that any car you have ever driven. Torque means "turning force". It's the thrill of pushing you back in your seat - but it means the twisting can be brutal.
It has MASSIVE tires and can have tremendous grip. Your tires are the ONLY thing keeping you stuck to the road and are impacted by many variables.
It has few electronic driver aids that will come to your defense if you overstep the limits of tire adhesion.
Here are some things that can keep you safe as you develop your relationship with your Viper:
Smooth inputs are more necessary in this car than any other. ANYTHING abrupt will unsettle the car. It DOES NOT appreciate a heavy hand, or a heavy foot. Either can send the car into a spin.
The tires will not work when cold, or - when OLD. Old tires = Hard tires. Even if they have loads of tread- they can be like hockey pucks. DO NOT skimp on tires. Again - they are the ONLY thing keeping you stuck to the pavement.
There is nothing that will pull you back once you have lost grip. No electronic Traction Control, no ESP, no power cutoff.
Many before you have not heeded these simple rules and have ended up with crashed cars. Or worse.
Consider the first several hundred miles the "honeymoon phase" with your Viper. No full throttle, no cranking the wheel, no showing off. Consider taking our car to a local autocross to have some fun, and maybe even spin. In a parking lot. Consider just going to that empty parking lot and try a couple of maneuvers varying the smoothness of your inputs and see what happens. (if the car starts to spin - both feet in - clutch and brake).
We want you around. We want you to love this car like we do.
Please feel free to add to this list and perhaps we can put it together as a BIG sticky.