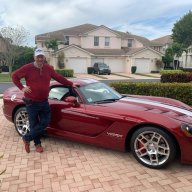 Joined

May 9, 2020
Posts

38
Reaction score

5
I am in West Palm Beach FL, and the local service provides "Arrigo Dodge and Chrysler" determined that the noise coming from the rear end of my 2008 SRT 10 is due to used or defective clutches. They cannot get the parts to rebuild the differential nor replace the clutches.
I am at the very beginning of my research and have no idea, how big a deal the repairs will be, nor where to start.
The car drives fine, only when I make those sharp turns e.g. in the garage, the ugly noise comes from the rear end.
Any help and advice would be appreciated. If anybody would know of a local repair shop, I could turn to would even be better.
Thanks in advance.